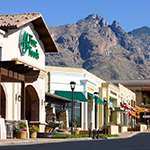 Tucson Foodie, Gerald M Gay, reports Phoenix-based restaurateur Tom Kaufman will be making his grand debut in the Tucson market with two of his concepts set to open at La Encantada, 2905 E. Skyline Drive, by the end of the year.
Kaufman and his partners will launch The Living Room Wine Café & Lounge in the old home of Armitage Wine Lounge and Café by mid-October.
The Living Room, which will sit at about 3,000-square-feet, has two sister locations, one in Chandler and one in Scottsdale.
The first Living Room launched in Chandler in 2010.
He will follow-up by opening his first Tucson Humble Pie pizza restaurant in 2,100-square-feet of space, once part of the seafood eatery, Bluepoint Kitchen & Bar, by late November.
He and his partners opened their first Humble Pie in 2007.
Kaufman looks at expanding into Southern Arizona as a great opportunity.
"There are a lot of people in Tucson who want to try new things," he said. "You also have the winter visitors and students and their families from the university."
Kaufman came to Arizona from Michigan in 1973 to attend Arizona State University. He lived in Tucson for a short time in the early 1990s, working as a wine sales representative.
Kaufman opened his first restaurant, Rancho Pinot in Scottsdale, with his now-ex-wife Chrysa Robertson in 1993. Roberston took full ownership in 2010.
Today, Kaufman is one of the driving forces behind 10 dining establishments in the Phoenix area, including eight Humble Pie locations, a Chandler steakhouse called CHoP, and a sushi spot dubbed Rock Lobster, also in Chandler.
Kaufman said he had been looking for the right place to land in Tucson for the last five years.
He toured locations from Joesler Village to downtown, but "came home empty-handed about a dozen times."
"I am glad we waited," Kaufman said. "La Encantada has such a gorgeous view. We feel fortunate to be in the right place at the right time."
For the full story click here