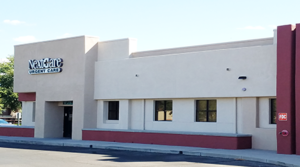 TUCSON, ARIZONA — Lee & Associates Investment Principals Steve Gonzalez, Marcus Muirhead and Greg Guglielmino brokered the sale of 6238 E Pima Street in Tucson for $1.175 million ($291 PSF) for this single tenant triple-net (NNN) property.
Constructed in 1998 as a build-to-suit for this specific use, NextCare Urgent Care has leased the space for the last 20 years. Located along one of the busiest traffic corridors in Metropolitan Tucson, the property's location benefits from high multifamily and single-family density as well as strong retail tenants from national and regional companies.
For more information on the properties, visit www.leearizona.com or contact Gonzalez at 602. 474.9588, Guglielmino at 602.474.9590 or Muirhead at 602.474.9589.
To learn more, see RED Comp #5665.