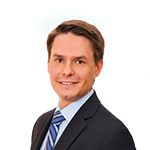 TUCSON, ARIZONA -- Tucson Realty & Trust Co. is pleased to announce the association of Zach Smith to the company. Zach is a veteran commercial broker specializing in Industrial & Flex space sales and leasing along with Investments. Zach together with his partner in Denver were one of the top-producing industrial teams in the region. Hank Amos, President of Tucson Realty & Trust Co. says; "We are very proud to have someone of Zach's caliber to affiliate with our company." "He brings a tremendous amount of knowledge and deal making to Tucson and is a very good broker." He averaged approximately two leases a month and about ten sales a year during his career in Denver.
Zach's clients have included Google, Conoco Philips, Timken, Batteries Plus and BMW to name a few and he was recognized as a leading expert on real estate within the cannabis industry.
Tucson Realty & Trust Co., currently celebrating its 109th anniversary, is a full-service brokerage firm specializing in the sale and leasing of office, retail, industrial, investments and land as well as corporate services, asset recovery and property management.
Zach can be reached at zsmith@tucsonrealty.com or 520-577-7000.