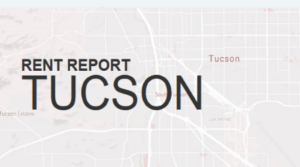 TUCSON, ARIZONA, May 3, 2023 -- Apartment List May 2023 reports nationwide rents increased another 0.5% in April, but even as the busy season picks up, rent growth is coming in slower than in previous years. When prices skyrocketed during the pandemic, April rent growth clocked in at 1.1% in 2022 and 1.7% in 2021. And even before the pandemic, April rent growth was higher than it is today. Of course, regional variation exists, but the national numbers speak to a continued, broad cooldown of the rental market.
Some highlights include:
Rents in Tucson fell 0.1% in April, compared to a 0.5% increase nationwide.
Year-over-year rent growth in Tucson now stands at +3.5%, down from +21.4% one year ago. Since the start of the COVID-19 pandemic in March 2020, citywide rents have risen a total of 40.5%.
Today the median rent in Tucson is $1,003 for a one-bedroom unit and $1,319 for a two-bedroom unit. And the citywide apartment vacancy rate stands at 6.6%, up 0.4 percentage points from this time last year.
Currently, the overall median rent in the city stands at $1,268, roughly the same as last month. Prices remain up 3.5% year-over-year. Read on to learn more about what's been happening in the Tucson rental market and how it compares to trends throughout the nation as a whole.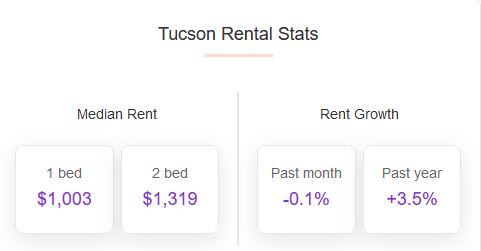 Tucson rents are flat month-over-month and up 3.5% year-over-year
The median rent in Tucson fell by 0.1% over the course of April, and has now increased by a total of 3.5% over the past 12 months. Tucson's rent growth over the past year has has outpaced both state (-3.2%) and national (1.7%) averages.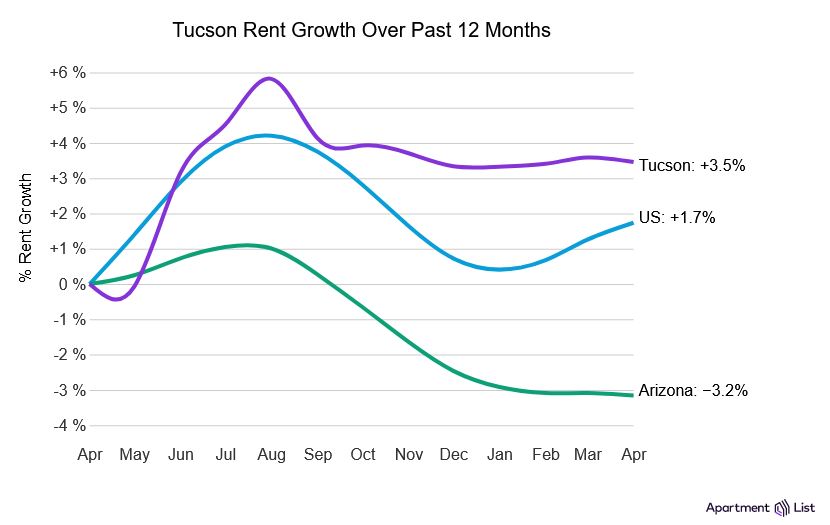 Tucson rent growth in 2023 pacing below last year
Four months into the year, rents in Tucson have risen 0.1%. This is a slower rate of growth compared to what the city was experiencing at this point last year: from January to April 2022 rents had increased 3.5%.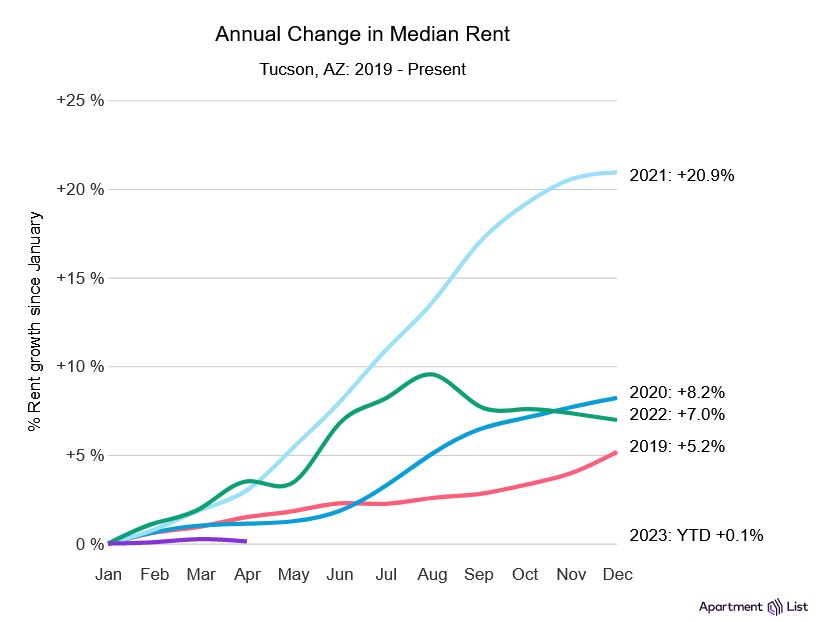 April rent growth in Tucson ranked #79 among large U.S. cities
Tucson rents went down 0.1% in the past month, compared to the national rate of 0.5%. Among the nation's 100 largest cities, this ranks #79. Similar monthly rent growth took place in Birmingham, AL (-0.1%) and Oklahoma City, OK (-0.1%).
Month-over-Month Rent Growth Among 100 Largest Cities In the U.S.
Tucson is the #66 most expensive large city in the U.S., with a median rent of $1,268
Citywide, the median rent currently stands at $1,003 for a 1-bedroom apartment and $1,319 for a 2-bedroom. Across all bedroom sizes (ie, the entire rental market), the median rent is $1,268. That ranks #66 in the nation, among the country's 100 largest cities.
For comparison, the median rent across the nation as a whole is $1,162 for a 1-bedroom, $1,332 for a 2-bedroom, and $1,355 overall. The median rent in Tucson is 6.4% lower than the national, and is similar to the prices you would find in Albuquerque, NM ($1,285) and Greensboro, NC ($1,264).
Median Overall Rent Among 100 Largest Cities In the U.S.
For the latest data and methodology, see full May Rent Report here.