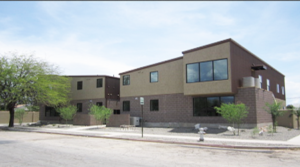 TUCSON, ARIZONA – Student Housing at 50 N Mountain Ave. in Tucson sold for $2.85 million ($89,000 per bed) to investors from Glendora, California by a Family Trust in Los Osos, California.
The newer construction (built 2015) was built for student housing within 3 blocks of the University of Arizona. This property integrates metal roofing with block and stucco finishes for a modern look that the students love with a floorplan designed by and for students.
The property consists of a 4-units with 8 bedrooms / 3.5 baths per unit, or 32-beds. The large units have huge common areas, all tile floors throughout, hardwood cabinets, Corian counters, and upscale finishes and appliances.  A swimming pool, large parking lot with 14-spaces, basketball hoops, and a fully enclosed yard with barbeques and common area are just some of the amenities.
Property was fully leased through July 2018 at time of sale.
Jarrett Reidhead of Tucson Integrity Realty in Tucson handled the transaction for both buyer and seller.
"It's been and still is a steady buyer's market," Reidhead said. "But with all the new inventory coming on the market, we can expect downward pressure on rents and a market cool down to follow."
Reidhead managed the property for the seller and will continue to manage it for the new owners.
For more information Reidhead should be contacted at 520.331.8050.
To learn more, see RED Comp #5610.