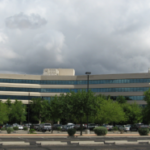 This article has been archived, please login for access or sign up now for a free trial.
WCCP Tucson West, LLC (Scott Douglas, manager) an affiliate of West Coast Capital Partners, with offices in Torrance, CA and Scottsdale, in partnership with Philip Skillings, principal of West Commercial, LLC in Tucson, bought the Tucson West office building at 333 East Wetmore Rd for[mepr-show rules="58038"]$16.4 million, ($113 PSF) from Aslan III 333 East Wetmore, LLC an affiliate of Transwestern Commercial Real Estate Services that managed the building. Built in 1986, the six-story office building tenants include engineering and mining firms such as Jacobs Engineering, PSOMAS Engineering, and Century Link.
The 145,353 sq. ft. building has been ENERGY STAR certified since 2010 with an energy performance score of 93. Following new adjustments through ENERGY STAR in 2011, the property has a performance score of 84, saving the building's owners an estimated $20,000 in annual energy costs.
According to Scott Douglas, the buyer was attracted to the building "because of its excellent tenant mix and minimal vacancy." Douglas says he is, "very excited about the building and Tucson," being originally from Tucson himself, he now lives in Los Angeles and will be coming to Tucson often. The building is in great condition, the only thing Douglas said it could use was, "some minor exterior upgrades."
Phil Skillings of West Commercial Real Estate Advisors in Tucson will handle leasing of the property.
The Bank of Arizona, Jennifer Pescatore, Senior Vice-President Commercial Real Estate Regional Manager handled financing.
Bill Palmer of Palmer Capital in Sacramento brokered both sides of the deal.
West Coast Capital is a private investment firm and also owns Plaza Palomino at Swan and Fort Lowell in Tucson that is currently undergoing a major renovation that is scheduled for completion next month. West Coast is actively looking for other investment opportunities in Tucson.
Contact Douglas at (310) 698-5320. To reach Skillings, call (520) 326-4500. Pescatore can be contacted at (602) 989-2370, and Palmer is at (916) 446-8272.
[/mepr-show]