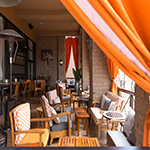 Tucson, AZ – Tucson Wine lovers rejoice! The Living Room Wine Café & Lounge is officially open at La Encantada shopping center –2905 E Skyline Drive. Offering a relaxed, comfortable and welcoming lounge experience, The Living Room's customers will be welcomed with delicious food and indulgent wine in beautiful and comfortable surroundings.
The coziness of the restaurant masks the 3,000 square-foot space which formerly housed the Armitage. Filled with conversation and rendezvous-style nooks, the restaurant balances an open-air and welcoming feel for both the interior and patio areas. Seating is comfortable, social and soft, designed for stretch-out and hang-out pleasure.
With wine as the star, the bar offers a selection of 35 wines and sangrias by the glass, a handpicked list of wines available by the bottle and a full cocktail and beer-on-tap and by-the-bottle bar. Happy hour specials delight with an ever-changing selection of exclusive boutique wines only offered at The Living Room.
"The Living Room is truly the modern day neighborhood hangout; it's a chill lounge with great food," says Tom Kaufman, owner, The Living Room Wine Café & Lounge. "We are thrilled to bring this concept to Tucson."
Diners can expect a menu packed with delicious and sharable salads, seafood, starters, bruschetta, flatbreads, burgers, desserts and more. Saturday and Sunday brunch is stocked with both healthy and hearty options including signature crepes.
Building on the success of locations in Scottsdale and Chandler, The Living Room Wine Cafe & Lounge is privately owned by Tom Kaufman, Patrick King, Dave Dabruzzi, Tim Valencia, Tony Eden and a group of Arizona investors.
The Restaurant is Open Monday - Thursday, 11 am - midnight;
Friday, 11am - 2 am;
Saturday,  9 am - 2 am; and
Sunday, 9 am - 10 pm.
Brunch served Saturdays & Sundays 10 am – 2 pm
DJ Spin every Thursday through Saturday. 
For more information visit Livingroomwinebar.com or call 520.308.5591.