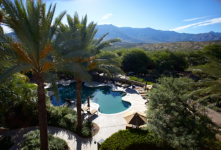 Revolution Places (Revolution) and KSL Capital Partners, LLC (KSL) announced that they have entered into an agreement to jointly own the world-renowned Miraval Resort & Spa, headquartered in Tucson, Arizona.
KSL is a private equity firm specializing in travel and leisure investments in five primary sectors: hospitality, recreation, clubs, real estate and travel services. KSL has offices in Denver, Colorado, Stamford, Connecticut and London, England. In addition to Miraval, KSL's current portfolio includes some of the premier properties in travel and leisure. In the United Kingdom, funds advised by KSL own The Belfry in the West Midlands and the Malmaison and Hotel du Vin chains. In the United States, funds advised by KSL own The St. Regis Monarch Beach, The James Royal Palm, a majority interest in ClubCorp, one of the world's largest owners of private golf and business clubs, and Squaw Valley and Alpine Meadows, two of the leading ski resorts in North America.
Revolution, a division of Revolution LLC, the Washington, DC-based investment firm founded by Steve Case in 2005, invests in unique real estate and hospitality opportunities, creating a new model for travel and tourism that promotes and encourages a healthy lifestyle and establishes a consumer brand that reflects those values. Revolution invests in differentiated properties that have significant long - term development potential, and also in branded, lifestyle hospitality companies that have the opportunity to scale.
Together, KSL and Revolution will seek to expand Miraval from its current Tucson location to new destinations in the US, Europe and elsewhere.
"For many years, we have been working to grow Miraval, to bring it to new locations and new people. Partnering with KSL – one of the most accomplished resort and spa investors in the world –allows us to accelerate these efforts, build on our success in Tucson, and take
Miraval to new locations around the country and the world," said Steve Case, Chairman of Revolution.
"Miraval is a breathtaking place, not only because of its extraordinary setting in the high Sonoran Desert, but also because of its groundbreaking approach to the experiences it offers its guests. Miraval is a true pioneer in spa and wellness.There is no other place like it. We are thrilled to join forces with Revolution in overseeing this resort," added Mike Shannon, Managing Director of KSL.
Miraval Resort & Spa in Tucson is a wellness luxury spa resort with a mission of "opening eyes, minds and hearts." Situated in the warm shade of the Santa Catalina Mountains in northern Tucson, AZ, on 400 acres of idyllic land, Miraval is a top-rated all - inclusive destination resort and spa dedicated to helping guests live life in the moment.
Miraval's focus on sustainable living, casita-style guest accommodations and the spectacular new Life in Balance Spa contribute to it being recognized since 1995 as one of the world's top destinations by SpaFinder, Travel+Leisure and Condé Nast Traveler year after year.  Offering an array of dynamic growth and development programs, one-of-a-kind, luxurious spa treatments, authentic, flavorful and healthful cuisine as well as an expert staff of renowned wellbeing specialists, Miraval helps to open eyes, minds and hearts. In 2012, the resort unveiled the Miraval Life in Balance Spa with Clarins, a state -of-the-art oasis designed to transform guests both physically and emotionally.
For more information visit www.miravalresorts.com.