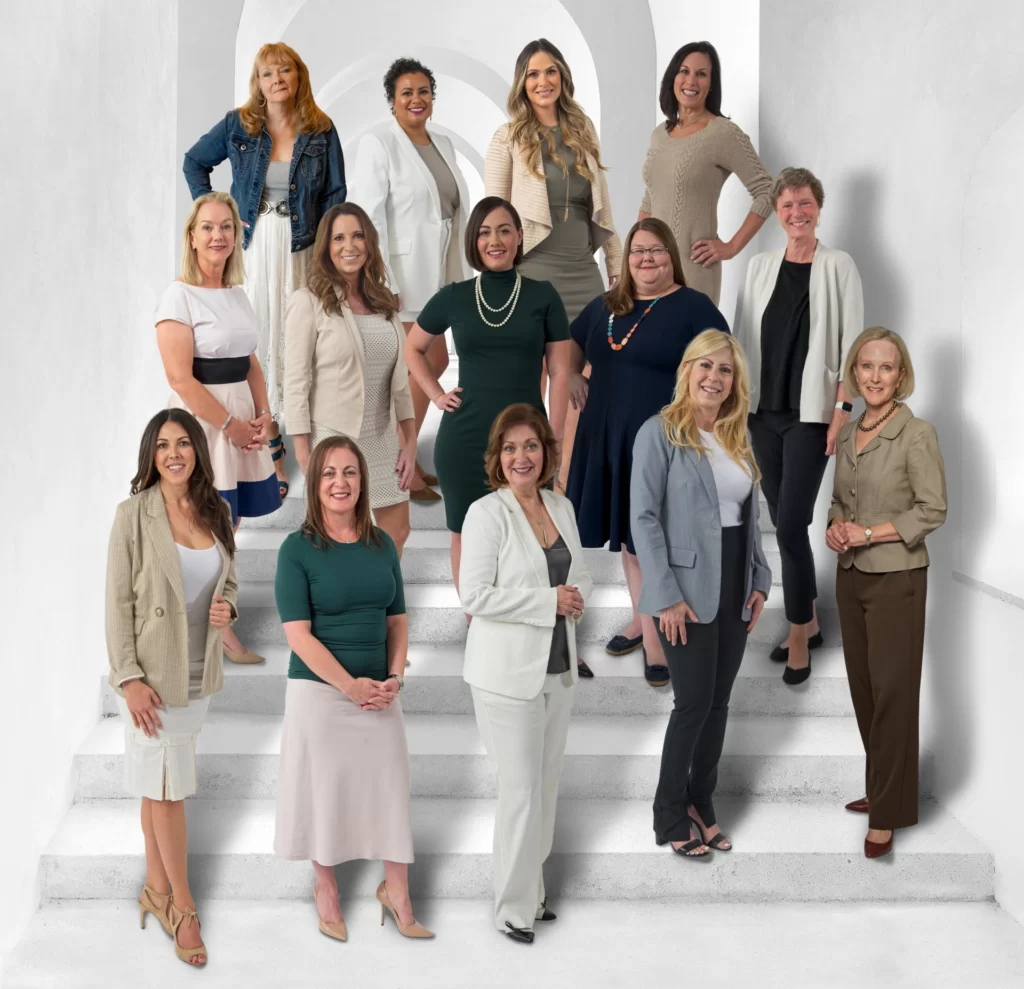 Above: Front row, from left: Morgan Betancourt, Okland Construction; Stephanie Maderazzo-Hughes, Canyon State Electric; Vicki Robinson, JLL; Michelle Heeb, Forward Tilt; and Nancy McClure, CBRE. Second row, from left: Kathleen Morgan, Newmark; Dani Huval, Chasse Building Team; Heather Skinner, JP Morgan Chase; Carrie Kelly, AAED; and Angela Watson, Shepley, Bulfinch. Third row, from left: Bev Jensen, Colliers; Alicia Hardwick, Prologis; Alexandra Loye, Cushman & Wakefield; and Keri Davies, LevRose Commercial Real Estate. (Photos by Amber Legler and Mike Mertes. Photo illustration by Mike Stevens)
AZ Big Media has named Nancy McClure with CBRE Tucson to Most Influential Women in Commercial Real Estate for 2022.
Inspiration comes in many forms for AZRE magazine's Most Influential Women in Commercial Real Estate for 2022.
"I'm inspired by women in the construction industry," says Morgan Betancourt, project director for Okland Construction. "In a historically male-dominated industry, women have gone — and continue to go — above and beyond to prove that we belong. The women I've met and worked with are passionate, detail oriented and driven to provide greater representation in the field."
For others, inspiration hits very close to home.
"My paternal grandmother was a pastor's wife who lost her husband to the influenza epidemic at the beginning of the Great Depression," says Bev Jensen, regional operations manager for Colliers. "Having lost their church-provided housing, she moved her two children — ages five months and eight years — to a small farm in the country and drove the long commute to the city every day to work to support them. As a working single mom during the Depression, she epitomized strength, determination and an amazingly positive attitude. She taught me to always strive to do my best."
Jensen and Betancourt — along with the rest of the Most Influential Women in Arizona Business and the Most Influential Women in Commercial Real Estate for 2022 — will be featured in the July issues of Az Business and AZRE magazines.
They will also be honored at a recognition dinner Thursday, August 25, 2022, at Chateau Luxe in Phoenix. Tickets are on sale now. Tables and sponsorship packages are available. Please email Amy Lindsey at amy.lindsey@azbigmedia.com with questions about sponsorships. Email lynette.carrington@azbigmedia.com with questions about the event or tickets.
The Most Influential Women of 2022 were chosen from a field of more than 1,500 women under consideration. They were selected by an editorial board that consists of 12 former Most Influential Women. 
Be sure to check back daily starting July 6, 2022. Each day leading up to the awards ceremony, we will profile one of the Most Influential Women of 2022 right here: azbigmedia.com.
Most Influential Women in Commercial Real Estate for 2022
Morgan Betancourt, project director, Okland Construction 

Keri Davies, partner, LevRose Commercial Real Estate

Alicia Hardwick, leasing manager, Prologis
Michelle Heeb, president and CEO, Forward Tilt

Dani Huval, business development director, Chasse Building Team

Bev Jensen, regional operations manager, Colliers

Carrie Kelly, executive director, Arizona Association for Economic Development

Alexandra Loye, executive managing director, Cushman & Wakefield

Stephanie Maderazzo-Hughes, CEO and COO, Canyon State Electric

Nancy McClure, first vice president, CBRE (Tucson)

Kathleen Morgan, managing director, Newmark

Vicki Robinson, senior vice president, JLL

Heather Skinner, vice president of global real estate, JP Morgan Chase

Angela Watson, president and CEO, Shepley Bulfinch