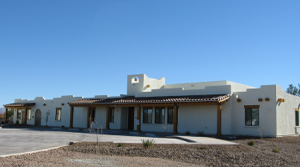 Green Valley, Arizona (June 28, 2023) – Formerly BeeHive Homes of Green Valley, a licensed and operating 40-bed assisted living facility, sold for $2,768,000 ($69,200 per bed) at 3161 S. Prosperous Place in Green Valley. The seller, MM & J Healthcare Properties, LLC, c/o John Green, Manager, was the owner-operator.
Beehive Homes of Green Valley is in a particularly beautiful setting, with majestic views of the Huachuca Mountains, offering a two-20-bed home campus with excess land, where a third building can be constructed. The 15,127 square feet of combined building space was built in 2011 on 2.58 acres.
The buyer, Prosperous AZ MFT, LLC, intends to change the use to operate the facility as a Behavioral Health Inpatient Facility.
Mark Biery, JD, CCIM, with Berkshire Hathaway, specializing in assisted living facilities, represented the sellers.  The buyer had in-house Counsel.
"This was probably the most complicated deal of my career," Biery said.  "We were in escrow for seven months, pushing the closing back constantly.

"The first challenge was confirming that a Behavioral Health Inpatient Facility worked in that zone, so we wrote a letter to Pima County Zoning, asking them for a Letter of Verification that it was an allowed use.  Fortunately, Pima County affirmed that in writing quickly.

"The next challenge was financing.  The collapse of that bank in California sent shock waves through the lending industry.  It took several months for two banks to analyze the property and the Buyer and deny to lend.  Eventually, the initial Buyer worked out a deal with a private lender, who bought the property, and is leasing to Haven Health Management for two years, after which time Haven will apply for a new loan and buy it back.

"Another massive challenge was shutting down the existing assisted living business and relocating the residents, because the Buyer will be doing something different.  The Arizona Department of Health requires that the Seller give residents 30 days' notice before closing, and the Sellers did not want to do that until they had a guarantee that the Buyer would close;  the Buyer did not want to guarantee a closing until they knew that the buildings were vacant.

"We hit an impasse there, but we worked through it, thanks to the flexibility and creativity of Michelle Jolly, our Commercial Escrow Officer at Stewart Title.

"We also had issues with the Transaction Privilege Tax and a Letter of Good Standing with the Arizona Department of Revenue.

"Anyway, we got it done, and Green Valley will soon have a new Behavioral Health Inpatient Facility, which it needs."
For more information, Biery can 0be reached at 520.235.2531.
To learn more, see RED Comp #10734.