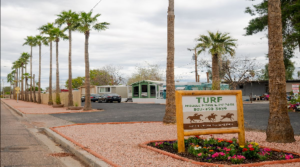 PHOENIX, ARIZONA — The sale of Turf Mobile Home And RV Park, an all-ages community located at 17217 N 17th Avenue in Phoenix, Arizona was completed on July 31, 2020 for the price of $6.9 million. John Sheedy, Senior Vice President with Park Brokerage Inc. exclusively listed the property for the seller and procured buyer which is a Phoenix-based investment firm that owns and operates other MH/RV communities across the United States.
The park contains 115 total sites all of which can house park model or singlewide mobile units however the park had 48 permanent RV tenants at time of sale. There are also four apartment units on the property. The community was nearly 100% occupied and rents were below the market. The property is serviced by city water and sewer, has wide paved roads with dedicated parking, and a direct-billed electric and gas system. Water/sewer is metered and passed-through to tenants. There are minimal common area amenities..
John Sheedy with Park Brokerage in Phoenix handled the transaction.
To learn more contact Sheedy at 602.821.4666