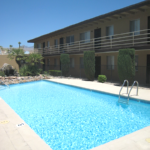 LOPLA, LLC of Tucson purchased the Glenn East Apartments, a 47-unit apartment complex at 2333 E Glenn St in Tucson for $1.85 million ($39,362 per unit). The property has approximately 15,034-square-feet in four buildings with two-stories, constructed in 1963 on 1.05 acres. Located on the Campbell Corridor in the Shaheen Estates subdivision, the unit mix consists of twelve 1 bedroom/ 1 bath units and thirty-four 2 bedroom/ 1 bath units. The property sold 100% occupied with new roofs and recently painted exteriors.
The financing of $1.295 million was handled by Ryan Johnson of Newmark Realty Capital, Inc. in Tucson.
LOPLA, LLC also bought Cypress Court at 1926-1944 N Tucson Blvd. in Tucson for $475,000 ($47,500 per unit). The 5,990-square-feet in seven buildings are single story and was built from 1941 to 1961. The transaction was financed with a seller carry back.
Tony Reed of Long Realty Company in Tucson represented the seller, The Flanagan Family Trust (Patrick Flanagan) of Tucson and the investor in both transactions.
To learn more Reed should be contacted at (520) 577-7400. Johnson can be reached at (520) 305-3222.
Login for additional information.
[mepr-show rules="58038"] Loan amount on Glenn East was a 10 year term, and 20-year amortization.[/mepr-show]