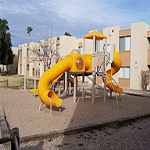 Tucson, AZ – Northwest Integrity Housing Company of Boise, Idaho (Thomas Mannschrek, principal) acquired two Section 8 subsidized housing projects in Tucson for an aggregate total of $8.7 million. Both are to undergo major rehab by new owner and were 90% occupied at time of sale.
The 140-unit Mayfair Manor Apartments at 5180 E. 22nd Street in Tucson sold for $4,768,289 ($34,059 per unit) and the 100-unit Shadow Pines Apartments at 4011 North First Avenue in Tucson sold for $3,931,711 ($39,317 per unit).
Mayfair Manor is to be rebranded Miraflores Apartments and Shadow Pines renamed to Catalunya Apartments. The seller of both properties were affiliates of The BSE Trust of Tucson (Bill and Shirley Estes, Trustees).
Both transactions were brokered by Bob Kaplan, formerly of Cushman & Wakefield | PICOR, now with Marcus & Millichap Real Estate Investment Services.
The acquisition rehabilitation financing involved a 20 year extension of a Housing Assistance Payment Contract from the U.S. Department of Housing, and The City of Tucson also separately providing a $750,000 loan for each property through the HOME Program.
The low-income tax credit investments from Affordable Housing Partners, Inc., and a bridge loan from the Sterling Bank of St. Louis, Missouri for $503,069, and two tax-exempt bonds, $8,229,466 and $7,015487, issued by The Industrial Development Authority of the City of Tucson with the Lotzar Law Firm, P.C. served as Counsel to the Bond Issuer and Bond Counsel. The Bond was sold on a private-placement basis and was purchased by the Sterling Bank of St. Louis, Missouri.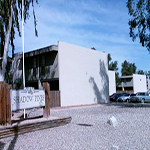 Mannschrek, also President of Thomas Development Company in Boise said, "We were under contract since May 2013 due to all the offices of HUD that had to sign-off on it, from Tucson to Pheonix to Washington, it just took a long time. We greatly appreciated the support we received from HUD and the City of Tucson for these projects, especially City Council members Karen Uhlich and Richard Fimbres who were very supportive." Mannschrek estimates the rehab cost to be about $38,000 per unit and also emphasized he believes in using local talent and expertise.
Kaplan said, "The properties are both 1971 construction and originally built as Section-8 housing. Both properties had been well-maintained, but are in need of upgrades such as new windows, a new chiller system, common area upgrades all very expensive rehab work."
Tofel Construction, Inc. will handle the rehab of both communities slated to begin September 8th, with Miraflores' expected completion May 2015 and Catalunya scheduled for March 2015. Evan Elgin of Elgin/Cohen Architects will be the lead architect on the project and Paul Ash Management Company has been retained to continue with the property management.
Thomas Development Co. is looking for additional multifamily investments.
To learn more Kaplan should be contacted at (520) 202.2938.