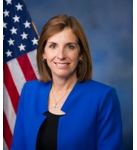 TUCSON, AZ -- U.S. Representative Martha McSally, Chairwoman of the Working Group on Women in the 21st Century Workforce will be holding a hearing on the barriers women face in the workforce this week in Tucson, on Friday, October 14.
"Women have made great strides and have achieved so much in this country, but the fact remains that so many women and girls still face barriers to achieving their full potential," Rep. McSally said during the hearing. "Many women today are struggling to balance the competing demands from their workplace, and their families. They are expected to do it all, and they are exhausted."
The Working Group on Women in the 21st Century Workforce plans to hold a series of hearings in the coming months. These hearings will provide a forum to discuss key pillars related to women in the workforce including expanding opportunity, increasing flexibility, removing barriers, and empowering the next generation.
The hearing will be on Friday, October 14 at the Pima County Community College starting at 10:30AM and is expected to wrap up by 12:30PM. The location of the hearing is:
Pima Community College District Office
Community Board Room (C-105)
4905 E. Broadway
Tucson, AZ 85709
U.S. Representative Martha McSally (R) represents Arizona's Second District in Congress. Before that, she served 26 years in the U.S Air Force and was the first woman to fly in combat and command a fighter squadron in combat. She is passionate about fighting for equal opportunity for women.
For more information about the working group, visit https://mcsally.house.gov/WomensWorkingGroup.