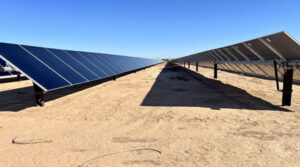 By: LOGAN BURTCH-BUUS University Communications
The University of Arizona project could lead to new methods and improved outcomes for marginalized agricultural communities and foster solar power development across Arizona.   
TUCSON — The race is on to develop more environmentally conscious land uses in a world impacted by prolonged drought and climate change, and University of Arizona researchers studying agrivoltaics just received a boost in the form of $1.2 million from the U.S. Department of Energy.
Agrivoltaics refers to the simultaneous use of land for both growing crops and collecting solar energy. When plants are grown in the shade provided by solar panels, agriculture can flourish in previously underdeveloped spaces. At the same time, solar installations benefit from the cooling effect of plant life.
Looking out the car window while driving through rural Arizona, chances are you may see a solar facility somewhere on the horizon. In the West, those projects are typically built over unoccupied, bladed dirt with little to no vegetation in sight. When Greg Barron-Gafford, a professor in the School of Geography, Development and Environment, sees solar power sites, he asks himself: How can we use that land for the benefit of agriculture?
The UA project, "Agrivoltaics Creates More Sustainable Energy, Food and Water Futures for the Southwestern United States: Opportunities at the Megawatt Scale," will examine how crop production and livestock grazing can flourish in existing commercial solar farms without significantly altering the operations. The project will consist of three test plots at a utility-scale solar facility owned and operated in central Arizona by The AES Corporation.
"This partnership with the University of Arizona and Department of Energy will drive research critical to creating new opportunities for rural agricultural producers and accelerating the positive impact of clean energy projects for the communities we serve," said AES Chief Corporate Affairs and Impact Officer Madelka McCalla. "As one of the world's leading energy solutions providers, we are committed to working with our partners to scale innovative and sustainable solutions that can drive adoption and a responsible green transition."
Researchers will test three different watering strategies, ranging from intensive irrigation to almost no water, and use the shadows cast by solar panels to provide benefits to the agricultural process. The most heavily watered plot will closely replicate current agricultural practices and include plants with greater water needs, like tomatoes and varieties of lettuce. The second plot will involve watering to establish growth, but much less thereafter, to reintroduce native grasses. The final plot will require little to no watering and include "climate smart" plants that have grown for hundreds, if not thousands, of years in the region: prickly pear, agave, legumes and others.
While the project will examine agricultural applications for existing solar sites, the benefits of agrivoltaics are already known – if not yet widely adopted.
"By introducing any amount of shade into a food-producing area, you're going to slow down evaporation and the loss of water," Barron-Gafford said. "That means the shade from agrivoltaics keeps the water in the soil longer to do the work that we want it to do."
Planting crops under solar panels not only decreases the amount of water needed for farming, but has also been shown to improve the lagging efficiency of solar panels in hot environments. Solar panels are less efficient when warm and typically underperform in sunny climates. One way to cool them down is through the natural process of water loss from plants, which cools the underside of panels.
The Udall Center conducts research on environmental and Indigenous governance, a mission that center director Andrea Gerlak said ties perfectly into agrivoltaics.
"We're really about governance and policy," said Gerlak, a co-principal investigator on the project and a professor in the School of Geography, Development and Environment. "Our work aims to get the governance and the policy right so it is equitable and fair and can solve the problems at hand. Indigenous and environmental issues overlap all the time in the Southwest, where tribes are sovereigns and rights-holders."
Agricultural communities across the United States – and particularly in Arizona and other drier communities – face dire straits due to the growing climate crisis and a history of handling food, water and energy as separate legal and legislative issues when the three are inextricably linked, Gerlak said. Studying agrivoltaics is part of the process of bringing these issues together.
"It is imperative that we build a more resilient food future, maintain a strong agricultural economy, and foster growth in the solar industry, and this research may provide vital insights in accomplishing each of those goals," said University of Arizona President Robert C. Robbins, who in December announced the formation of the Presidential Advisory Commission on the Future of Agriculture and Food Production in a Drying Climate, a group charged with suggesting actions to bring the resources of the university to bear on keeping agriculture productive even in the face of less water.
"I am grateful for the Department of Energy's partnership, which is a true testament to the expertise and innovation of our faculty and researchers," Robbins said.
Collaborating on the project is Alicja Babst-Kostecka, a UA assistant professor of environmental science, and Mitchell Pavao-Zuckerman, a former UA research professor who is now an associate professor in the University of Maryland College of Agriculture and Natural Resources.
In addition to the potential societal and industry benefits of their research, Gerlak and Barron-Gafford expressed appreciation for the educational opportunity the project will provide for both students and rural, often marginalized, farming communities.
"Many populations in rural Arizona lack access to experiential education," Barron-Gafford said. "We know that an agrivoltaics project is inherently interdisciplinary and includes everything from the physical to the social sciences, but when you dive in there it's hydrology, atmospheric sciences, plant sciences, ecology and soil science. That's the kind of student experience we want to build here at the university."