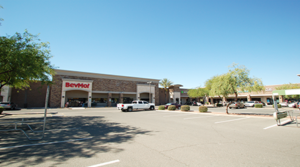 Phoenix, Arizona --  Darren Pitts, Brian Gast and Brad Ranly of Velocity Retail Group represented the Landlord, C & H Development Company in 14,412-square-foot lease at Scottsdale Commons shopping center located at the southwest corner of Shea Boulevard and Scottsdale Road. Kitchen United, Inc. will be occupying the vacant space adjacent to BevMo.  The tenant was represented by Todd Folger and Jami Gray from CBRE.
Kitchen United began in 2017 and is a state-of-the-art commercial kitchen facility designed to meet the needs of restaurant operators looking to build off-premise business.  The shared facilities offer kitchen space and infrastructure for restaurants to launch delivery-only concepts, or to even test their brand in new markets without having to invest in their own real estate.  By the end of 2019 the company is expected to open in nine additional markets, with Phoenix among them.
"This is a prime location in central Scottsdale which should provide Kitchen United a great launch into the Phoenix market," said Brian Gast, Executive Vice President of Velocity Retail. "We were focused on filling the vacancy for our owner with a quality tenant who can bring energy and synergy to the dozens of shop tenants in the center.  Kitchen United will be a great addition," he added.  More info at:  https://www.kitchenunited.com/
This transaction is one of dozens of big box deals completed by Velocity Retail Group in the past year.  The firm continues to lead the retail market in big box leasing and sales and looks forward to continuing to serve its expanding retailers at the highest level.