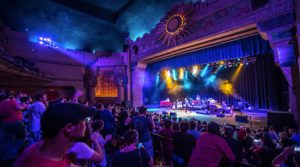 PHOENIX, ARIZONA (Nov. 9, 2023) – NAI Horizon represented the owners of one of the Valley's most popular Latino dance spots in the purchase of the vacant Sears building at Desert Sky Mall. The buyers are transforming the space into their second Latino entertainment venue in the Valley.
NAI Horizon Executive Vice President Jeffrey Garza Walker, MRED, MBA, represented Club Capri Real Estate, LLC, of Phoenix in the $7.13 million purchase of the 120,000 SF space at Desert Sky Mall, a regional shopping center at 7611 W. Thomas Road, in Phoenix.
The buyers, brothers Melchor and Pedro Marques Jr., own El Club Capri, 2135 E. Van Buren, one of the biggest and longest-running (40 years) entertainment venues for Latino concerts, dances, parties, weddings, and quinceañeras.
"They have always wanted to open a similar venue on the West side," Garza Walker said. "This is the perfect spot, and the community is very excited. The owners feel this entertainment facility is really going to serve the people – who are about 80 percent Hispanic – in the community. The elected officials who represent this part of
Phoenix is excited about what the new owners will turn it into. They are thrilled that the community is behind it as well."
The Marques brothers own KSUN-1400 AM, a Spanish-language radio station serving Metro Phoenix. The regional Mexican music format is under the branding "La Mejor." The station broadcasts Arizona Diamondbacks and Phoenix Suns games in Spanish.
"NAI Horizon continues to be a purposeful partner, making things happen positively in the community," Garza Walker said. "This will be a great venue for West Phoenix."
The new venue is expected to open in late 2024 or 1Q 2025.
Desert Sky Mall is located at 75th Avenue and Thomas Road. The mall was developed by Westcor and is managed by Macerich. The anchor stores are Curacao, Burlington, Mercado de Los Cielos, and Dillard's Clearance Center. Desert Sky Mall serves as a transit center for Valley Metro.
The seller, Seritage SRC Finance LLC of New York, New York, was represented by Trent Steeves, Jimmy Slusher and Nancy McClure with CBRE.
PHOTO CAPTION: The owners of the new venue at Desert Sky Mall are hoping the Phoenix venue replicates some of the features of the popular Latino-themed Aztec Theatre (above) in San Antonio, Texas.