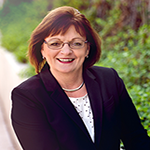 Phoenix, AZ -- Velocity Retail Group, LLC is pleased to announce that Bonnie Arlia has been promoted to Senior Vice President.  Ms. Arlia is an industry veteran, with decades of experience in the retail commercial real estate arena.
"Bonnie is an integral part of our company with proven success and experience in all facets of our business.  Our clients count on her to deliver accelerated service during their site selection and transaction process," said Dave Cheatham, President at Velocity Retail Group.
Darren Pitts, Executive Vice President at Velocity Retail Group commented, "Our core group of team members has been together for nearly two decades. Servicing our clients at the highest level is part of our foundation and Bonnie exemplifies this in everything she is involved in.  This promotion is well earned and well deserved."
During her career Ms. Arlia has worked with prominent national retailers and shopping center owners to execute their real estate strategy throughout Arizona.  In addition to working with Velocity's high profile clients, she is responsible for providing leadership for the company as the Designated Broker, increasing visibility for the company through creative marketing as well as elevating the firm's research capabilities and analytical tools.
"It is rewarding to work with such an experienced and diverse group of industry leaders within our company who are always focused on what is best for our clients and doing the right thing.  I am excited to help our clients achieve even greater success during this next market growth cycle," said Arlia.
Headquartered in Phoenix, Arizona, Velocity Retail Group provides a full range of commercial real-estate services including leasing and selling of shopping centers, tenant representation, consulting, investment consulting, development to retail tenants, and redevelopment to owners of retail real estate throughout the West. Velocity Retail Group is a member of X Team International a network of 400 retail professionals in 35 offices nationwide.
Contact Bonnie at 602-682-6020.