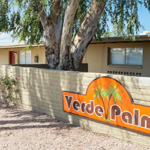 Phoenix, Arizona – With so many multifamily properties near Arizona State University and investment opportunities, it's no wonder that this Utah investor chose to purchase this single-story community of eight duplexes only a little over one mile from the main campus in Tempe.  Multifamily advisor, Carrick Sears with SVN|Desert Commercial Advisors brokerage in Phoenix represented the Utah buyer who was looking for their first commercial investment property in Arizona.
Verde Palms Apartments is made up of 16-units, all of which are 2 bedroom/1 bath apartments.  The property is located at 1010 S. Smith Road in Tempe and sold for $1.25 million which comes to $78,125 per unit.  This property is a two-minute drive to the nearest local university hangout, Four Peaks Brewing Company, Portillo's, Buffalo Wild Wings, and the popular Improv Comedy Club.
Sears said, "I am always happy to help out-of-state buyers that want to invest in properties in Arizona.  This will be a great starter multifamily property for them."  Buyer, Sara Cadwell with Blue & Gold Properties out of Draper, Utah purchased the property at the end of February.  Her first purchase was a single family residence located in Surprise. The seller, Paul Adams with Palms, LLC is out of Encinitas in California and was represented by local broker, Alon Shnitzer with ABI Multifamily in Phoenix.  Rich Newton with Stewart Title Agency handled the million dollar sale transaction.