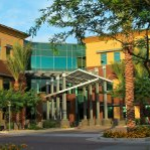 PHOENIX – Colliers International in Greater Phoenix recently completed the sale of a 183,000-square-foot, Class A office building in Chandler for $43.1 million, ($235.50 PSF).
W. P. Carey Inc., a global net-lease REIT based in New York City, purchased the building at 2700 W Frye Road in Chandler from Regent Properties of Los Angeles.
Neil Glassmoyer, senior vice president; Tivon Moffitt, vice president; and Peter Bauman, senior associate; all of Colliers International in Greater Phoenix, served as brokers for the buyer and seller.
"The market fundamentals in Chandler's Price Road Corridor are very strong and the area is poised for continued expansion. The building's location in the heart of Chandler's Price Corridor helped attract W. P. Carey," Moffitt said.
The Chandler submarket features one of the lowest office vacancy rates in Metro Phoenix, as tenants are drawn to the area due to the highly educated workforce, according to Colliers International.
"Price Corridor is Chandler's premier employment corridor, and continues to attract companies interested in quality and a sense of place," said Chandler Mayor Jay Tibshraeny. "It is a central hub for the workforce, infrastructure and amenities that the current marketplace demands."
W. P. Carey Managing Director and Co-Head of Global Investments, Gino Sabatini, said, "The combination of the desirable location, credit tenant and quality asset made the acquisition an ideal addition to our portfolio. Together with its criticality to the operations of QBE the property meets all our investment criteria and supports our strategy of providing secure, long-term cash flow to our investors."
QBE Insurance, one of the 20 largest insurance and reinsurance companies in the world, is the building's only tenant on a long-term lease. This location is QBE's second largest office building in the country. Overall, QBE is located in 43 countries.
"This acquisition was ideal for W. P. Carey given that the tenant, QBE Insurance, is a strong and stable investment grade tenant," Bauman added.
Regent Properties completed the building's construction after purchasing the property in 2011 and then fully leased the building to QBE shortly thereafter.
"Regent Properties had a dynamic vision for this property. They added significant value by completing this class A office asset," according to Glassmoyer.
"The success of this project is due in large part to the cooperation and aid from the City of Chandler's economic team, QBE's desire to be in Chandler and ultimately Neil and Tivon, and the entire Colliers' team, for connecting Regent Properties with the W. P. Carey team.  This project is emblematic of our proven track record at stabilizing once troubled assets as well as our commitment and belief in the Phoenix market," according to Eric Fleiss, president of Regent Properties.
Glassmoyer, Moffitt, Bauman with Colliers can be reached at (602) 222 5000.