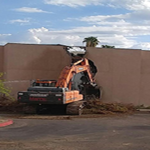 Mesa, AZ -- Mesa-based Wasson Commercial Contracting, it's in with the new and down with the old at two construction sites in the Valley.
Wasson completed construction on a 13,000-square-foot retail building at the NEC of Dobson and Bass Pro Drive at Mesa Riverview. As that project was going up, Wasson was salvaging the building that once housed the iconic Harkins Camelview 5 movie theater at Scottsdale Fashion Square.
"It was interesting to see one going up as another was coming down," said Wasson Operations Director Brian Houston. "For the Camelview project, we realize the building has a lot of history. Mr. Harkins salvaged a lot of the memorabilia for his museum. For our part, we just wanted to perform the safest demolition possible and leave a safe place for the mall and neighbors until a new owner for that location is found. We are currently setting up the space as a new venue for the mall working with owner Macerich."
At Mesa Riverview, Wasson completed the Kimco Realty project whose tenants include Fired Pie pizza, Aspen Dental, Starbucks, Menchie's Frozen Yogurt, and Mattress Firm.
"We are excited to see this building coming together," Houston said. "Between the raw lumber canopies and brick façade, it is a truly beautiful example of great modern retail design. A fact we thought was interesting is that Menchie's has more than 350 frozen yogurt shops around the globe, including South Africa, Pakistan, and China."
A highlight of the Camelview project was the Scottsdale Police Department performing SWAT-style training before actual demolition began, according to Wasson President Danny Wasson.
"This was not only an iconic building, but one built to last a very long time," Wasson said. "The design and integrity of the building were something we rarely see anymore and made this a very complex demolition project. We are proud to have been able to be a part of this project and to be able to work for a great partner like Macerich."
For more information about Wasson Commercial Contracting visit wassoncc.com.