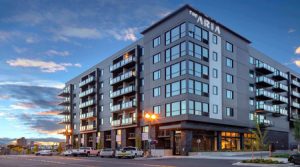 Access to Agency Loans Expands Options for WAY's Clients
LOS ANGELES (June 14, 2023) -- WAY Capital, Inc., a leading commercial real estate capital markets advisor, has entered an agreement with Regions Bank to provide WAY's clients and partners access to the multifamily loan programs of Fannie Mae and Freddie Mac. Specifically, this collaboration will enable WAY's clients to access Regions Agency Loan Programs.
"I'm thrilled that WAY has entered into this agreement with Regions to enhance our top-ranked strategic advisory business," said WAY Founder and Senior Managing Partner Malcolm Davies. "Now, we have even more tools in our toolbox to provide structured and curated financing solutions for multifamily real estate owners and developers."
Regions is one of the nation's largest full-service providers of consumer and commercial banking, wealth management and mortgage products and services
"Multifamily property owners and developers are delivering an especially vital service as they meet a wide range of housing needs across the country," said Jason Hull, Managing Director of Regions Real Estate Capital Markets team. "This collaboration enables Regions to connect more clients with beneficial services that not only support their business but, importantly, support the people who depend on them for their housing needs. And it's another way Regions is building more sustainable growth through our diversified business model that provides customized financial solutions."
Agency loans, including those from Fannie Mae and Freddie Mac, typically offer long-term financing solutions with competitive interest rates and can be used to buy or refinance multifamily properties.
"We are ecstatic to have this this final piece of the puzzle in place to blend our structured finance expertise with the monetization that comes to our clients with these financing facilities provided by Fannie Mae and Freddie Mac through Regions," said WAY Founder and Managing Partner Zack Streit.
WAY Capital, Inc., and its team under a predecessor firm, has been involved in over $8 billion of multifamily financings over the past decade.
The firm received Real Estate Capital USA's 2022 Boutique Debt Advisory of the Year award and Real Estate Forum Magazine's Rainmaker in Debt & Equity Finance honor. www.waycapital.com
PHOTO: The Aria Multifamily, Vancouver Washington, $31,242,000 refinance