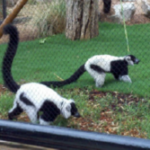 The City of Tucson's Reid Park Zoo's newest residents are two black-and-white ruffed lemurs named Pepe and Nuit. Black-and-white ruffed lemurs are an endangered species, native only to the rainforests on Madagascar.  Someone meeting the furry tree-hopping creatures for the first time might guess they're related to squirrels or cats. But the truth is, lemurs are more closely related to you and me. Lemurs are primates.
"The new lemur habitat is a magnificent addition to Reid Park Zoo," stated Jason Jacobs, Zoo administrator in a recent news release. "Zoo staff is to be commended for renovating a dilapidated exhibit and updating it with new mesh for ease of viewing. The landscaping and enrichment features create a vibrant habitat for lemurs and allow us to support the AZA's breeding program for this species."
According to a zoo news release the pair Pepe (a five year old male) and Nuit (a three year old female) came to Reid Park for breeding purposes. Pepe comes to Tucson from the Gladys Porter Zoo in Texas and Nuit is here from the Saint Louis Zoo, all three zoos are accredited by the Association of Zoos and Aquariums (AZA). The AZA works cooperatively to "make careful animal care and breeding decisions for many threatened and endangered species."
Reid Park Zoo is open 8 a.m. – 3 p.m. and the lemurs will be on exhibit daily.
For more on the lemurs guests can go online to www.reidparkzoo.org.
Don't forget to wear your black and white (in honor of the lemurs) from now till Sunday to get $2 off your admission price!