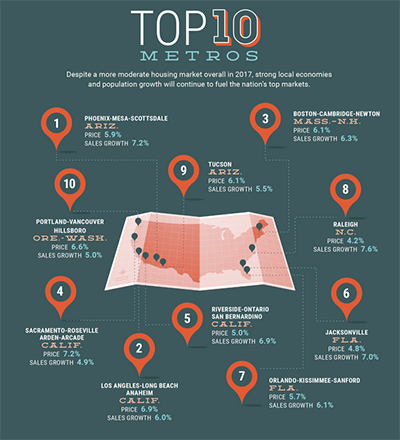 The realtor.com® economic team is forecasting that most of the nation's hottest markets are going to keep blazing in 2017. And where will it be hottest? Head west! According to forecasts, the western U.S. will continue to lead the nation in prices and sales and Phoenix is right on top!
Despite a more moderate housing market overall in 2017, strong local economies and population growth will continue to fuel the nation's hottest markets. The realtor.com® 2017 top 10 housing markets based on price and sales gains are: 1. Phoenix-Mesa-Scottsdale, Ariz.; 2. Los Angeles-Long Beach-Anaheim, Calif.; 3. Boston-Cambridge-Newton, Mass.-N.H.; 4. Sacramento–Roseville–Arden-Arcade, Calif.; 5. Riverside-San Bernardino-Ontario, Calif.; 6. Jacksonville, Fla.; 7. Orlando-Kissimmee-Sanford, Fla.; 8. Raleigh, N.C.; 9. Tucson, Ariz.; and 10. Portland-Vancouver-Hillsboro, Ore.-Wash.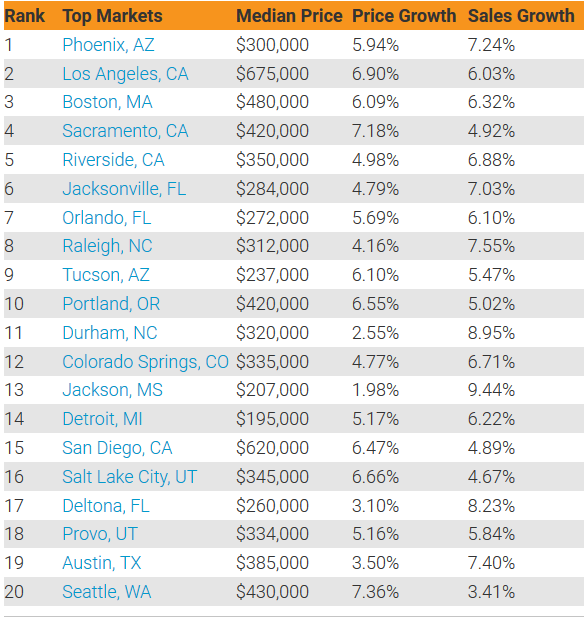 However, compared with last year, price growth in eight of the top 10 markets is expected to slow down, with only Los Angeles and Tucson, AZ, showing bigger increases over last year.
"The top 10 markets all benefit from strong growth dynamics: population, jobs, and households," says Jonathan Smoke, realtor.com's chief economist, who analyzed the country's 100 largest metropolitan markets for their growth potential. "They all have low unemployment that's heading lower, which buoys consumer confidence."
Western cities account for 11 of the top 25 metro markets on our list, including five in California. But whatever their location, all the top markets have in common relatively affordable rental prices, low unemployment, large populations of millennials and baby boomers, as well as a high number of listing views on realtor.com. The top 10 are forecast to see average price gains of 5.8% and sales growth of 6.3%, exceeding next year's anticipated national growth of 3.9% and 1.9%, respectively.
To see full report click here.