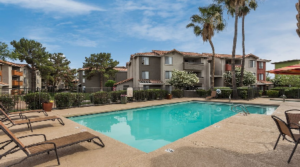 Partnership purchases 212-unit apartment community in Tempe, Arizona, comprising 66-percent naturally-occurring affordable housing
Tempe, Ariz.  – Western Wealth Capital (WWC), a growth-oriented real estate investment company, and PGIM Real Estate, the real estate investment business of PGIM, the $1.2 trillion global investment management business of Prudential Financial, Inc. (NYSE: PRU), today announced the acquisition of Sonesta on University, a 212-unit apartment community in Tempe, Ariz.
Sonesta on University was originally constructed in 1988 and features twelve two- to three-story garden-style apartment buildings, in addition to abundant parking. The property, which is located at 1975 E. University Drive in a low-income census tract, contains naturally-occurring affordable housing (NOAH), with 66 percent of in-place leases at an affordable price point to residents making less than 80 percent of the Area Median Income (AMI). The joint venture partnership plans to preserve the affordable housing units. Upgrades are planned for the property's common areas to enhance their attractiveness and usability, which is part of the partnership's focus on community engagement and resident programs.
The property is located one mile east of Arizona State University, the largest university in the country with total enrollment of 111,000 students, and approximately two miles east of the Mill Avenue District in Downtown Tempe, with more than 80 restaurants, 35 shops and 28 arts and entertainment venues. Notably, Tempe has recently benefitted from unprecedented job creation, as financial services and technology companies relocate into the market.
The acquisition further increases WWC's U.S. rental portfolio, which comprises real estate in Houston, Dallas, Phoenix, Atlanta and San Antonio. The acquisition also marks WWC's 50th acquisition in the Phoenix market. WWC has acquired more than 70 multifamily properties in the U.S., with most purchases completed between 2016 and now.
WWC has identified the Phoenix market as continuing to meet all of the attributes of its business strategy and disciplined investment criteria. The Phoenix market shows both job and population growth that are driving both vacancy rates and rental prices in an environment with a large inventory of undervalued and underperforming multifamily properties.
"We continue to grow our portfolio in the Phoenix area. We are thrilled to add Sonesta on University to the mix. The Valley has been a key market for WWC for some time now," said WWC CEO Janet LePage.
WWC has developed a proven, reliable system for investing in multifamily properties in key real estate markets across the U.S. WWC offers Investment Partners the opportunity to invest in cash-flowing properties with substantial value-add opportunities. Since its inception, WWC has successfully completed more than $2.2 billion in real estate transactions.
The property, which comprises 66% naturally-occurring affordable housing, aligns with PGIM Real Estate's intended outcomes of investments through its dedicated real estate impact investment strategy.
"Through our impact investments, we've set out to promote greater housing stability and support high quality communities for low and moderate income people," said Lisa Davis, PGIM Real Estate's executive director and portfolio manager for its impact-oriented real estate investment initiatives. "One critical way that this can be accomplished is through the preservation of well-located housing properties with affordably-priced apartments, such as Sonesta on University."
Another interesting aspect of the transaction is the leadership role that women played. In addition to Janet LePage and Lisa Davis, Nevene Vujic led the transaction for PGIM Real Estate. "This is the first transaction that I have closed where all three of the leadership roles were held by women—and all mothers with children under 10," Davis continued.
Launched in 2018, PGIM Real Estate's impact strategy focuses on investments in affordable housing and transformative developments in underpriced locations across major U.S. markets with anticipated population and economic growth.