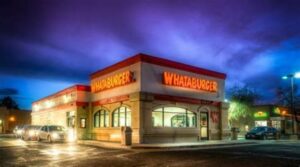 TUCSON, ARIZONA --The Whataburger ground lease at 921 E Tucson Marketplace at the Bridges sold for $2.8 million ($71.44 PSF).  The transaction involved the sale of the leased fee interest in the land.
Whataburger was constructed in 2021 with a leased fee interest in the land.
Bourn Properties affiliate BP Bridges Partners LLC, the seller was represented by Alan Tanner with Bourn Advisory Services.
The buyer, K&R Holdings I, II and III of Bothell, Washington acquiring the asset was represented by Regan Amato and Ryan Tanner with JLL in Phoenix.
For more information, Tanner in Tucson can be reached at 520.323.7624. Amato and Tanner in Phoenix should be contacted at 602.282.6300.
To learn more, see RED Comp #10147.