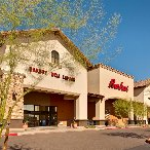 Whitestone REIT of Houston, Texas (NYSE: WSR) purchased the Fountain Hills Plaza in Fountain Hills, AZ for $20.55 million ($185 PSF) for the 111,289-square-foot grocer and hardware store anchored retail center.
Located at the southwest corner of Palisades Boulevard and La Montana Drive in Fountain Hills, Fountain Hills Plaza benefits from one of the busiest intersections in the community as well as a well-established residential area. The retail center also features 143 covered parking spaces in front of Bashas'.
Glenn Smigiel, Bob Young, Steve Brabant and Rick Abraham of CBRE's Phoenix office represented the seller, J & R Holdings XX LLC, an entity formed by Phoenix-based Pederson Group (Jeff Manellis, president).
"Fountain Hills Plaza is a very stable, solid, secure asset with Bashas' and Ace Hardware as well-performing anchor-tenants," said Smigiel. "With the current tenant roll and its excellent location, there is much opportunity to grow rents and fill the remaining vacancy. Additionally, there is further opportunity for development in the form of an available vacant pad." Fountain Hills Plaza has a 6,000-square-foot vacant pad available for future development. Offering an excellent build-to-suit opportunity, the space has seen significant recent activity.
"We are very pleased with this transaction. After redevelopment and significant improvement of the property, we found an ideal buyer in Whitestone," said Jeff Manelis, president, Pederson Group. "From our initial discussions, through due diligence to closing, Whitestone was excellent to work with and moved quickly to ensure the transaction was completed in a timely, efficient manner. The speed of the transaction enabled us to timely deal with a pending loan maturity."
Originally built in 1986, Pederson Group redeveloped Fountain Hills Plaza in 2009 with a new, state-of-the-art Bashas' and an expanded Ace Hardware. Since the redevelopment and despite the recent recession, the property has signed five new national tenants, including Little Caesar's, GNC, H & R Block and Great Clips.
Public records show Whitestone Fountain Hills, LLC paid cash for the property which was 87% occupied at time of sale. The publicly-traded Whitestone REIT is looking to purchase additional retail investment and development opportunities in Arizona.
Whitestone REIT is at (713) 435-2208. Manelis of Pederson Group can be contacted at (602) 265-2888. Smigiel, Young, Brabant and Abraham in CBRE's Phoenix office should be reached at (602) 735-5555.