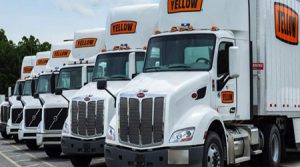 (August 2, 2023) -- The troubled trucking company, Yellow Corp, had a 10% share of the LTL (Less Than Load) market, halted operations on Sunday, and is expected to file for Chapter 7 bankruptcy. This anticipated move is poised to cause a significant shift in the industry's market share. Among the companies expected to reap the benefits are non-union carriers, owing to their flexible cost structures and recent gains in market share.
In late June, analysts from the Bank of America had projected a potential bankruptcy for the 100-year-old Nashville, Tennessee-based company. They identified the companies most likely to profit from such a development. Their top picks were XPO, SAIA, and Old Dominion Freight Line. These predictions align with reality as these companies' Year-to-Date (YTD) share prices have shown exceptional performance since the report's release.
The stock price of XPO has seen a surge of 21% (an impressive 121% YTD) while SAIA has grown by 24% (104% YTD). Similarly, Old Dominion's shares have risen by 15%, marking a 54% increase YTD. This exceptional growth could be the first indicator of the positive market effects these companies will likely experience due to Yellow's bankruptcy.
In its most recent annual report, Yellow said it owns 166 properties and leases another 142 facilities, expected to flood the industrial real estate market with more than 300 properties with a national vacancy rate of 4.9% for industrial properties currently.
Yellow's owned and leased properties are spread across the country but are mostly concentrated on the East Coast. Its two largest owned properties are a 426-door service facility in Chicago Heights, Illinois, and a 349-door facility near Winston-Salem, North Carolina.
Yellow has come close to collapsing before. In 2020, the Treasury Department granted the company a $700 million pandemic-era loan on national security grounds. Last month, a congressional probe concluded that the Treasury and Defense departments "made missteps" in this decision — and noted that Yellow's "precarious financial position at the time of the loan, and continued struggles, expose taxpayers to a significant risk of loss."
The Teamsters supported the $700 million loan when it was announced. As of June 30, Yellow had paid $67 million in cash interest on the loan, which is due in 2024, the company said.
In the first quarter of 2023, Yellow recorded a net loss of $54.6 million, a jump from a net loss of $27.5 million in the same period a year earlier.
As of Tuesday morning, no bankruptcy filings from the company could be found on the Securities and Exchange Commission's website.