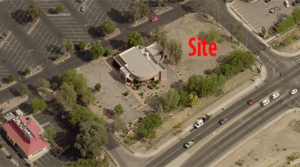 SAHUARITA, ARIZONA – Team Adams Sahuarita LLC of Sierra Vista (Kevin Adams Trust) paid $1.065 million ($286 PSF) for a former American Southwest Credit Union with excess land at 18800 S Nogales Hwy in Sahuarita Plaza.
CVP- Sahuarita Plaza DB LLC, an affiliate of Cole Valley Partners of Portland Oregon, then purchased the excess land from Team Adams Sahuarita for $765,000 ($28 PSF) and plans to develop for 900-square-foot Dutch Bro's Coffee at 18810 S Nogales Hwy. in Sahuarita Plaza.
This will be the first Culver's and Dutch Bro's in Sahuarita with plans to open Q2 2019.
Dutch Bro's will also be added to Old Vail Plaza, where CVP – Rita Ranch purchased a 10,038-square-foot pad for $625,000. ($62 PSF). The property sold shovel ready and Dutch Bro's will join Native Grill, Taco Bell and Freddy's Steakburger at the center.
From their 911 cold brew to the Banana Cream Pie Frost, Dutch Bros. Coffee has been serving up tasty beverages to the west coast since 1992.  Unfortunately, Tucsonans have been excluded from enjoying one of their beverages for years. But, with a new store that opened Oct 9th at 120 South Wilmot, near Broadway Boulevard and Wilmot Road, Dutch Bros. is helping Old Pueblo residents catch up with the rest of the west.
With these two new land acquisitions, the Oregon coffee chain will have four shops in the Metro Tucson area, the others being at Cortaro & I 10 in Marana.

Pete Villaescusa and Jesse Peron with CBRE in Tucson handled the sale at Old Vail Plaza.
For more information, Villaescusa and Peron should be reached at 520 323-5100.
To learn more, see RED Comps #6217, #6227, and #6308.