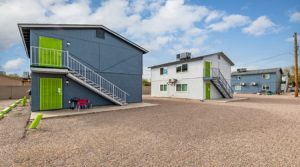 PHOENIX (April 13, 2023) – ABI Multifamily, the leading multifamily brokerage and advisory services firm in the Western US, is pleased to announce the $2.9 million / $145,000 per unit / $233.49 per square foot sale of 1011 Apartments, a 20-unit multifamily apartment community located in Phoenix, Arizona.
The buyer and seller were represented by ABI Multifamily's Mitchell Drake, Dallin Hammond, and Carson Griesemer. The buyer and seller are based in Arizona.
1011 Apartments is a 20-unit, garden-style community located at 6623, 6627 & 6631 South 10th Street and 6624 & 6632 South 11th Street in Phoenix, Arizona. This community comprises (5) contiguous parcels with (2) duplexes on each parcel, each of wood-framed construction and originally built in 1986. The property consists of ten separate buildings across +/-1.23 acres, allowing for ample parking for residents and the space to create exterior community areas. This property provides an ideal unit mix of 100% 2-bedroom / 1-bathroom apartments at 621 square feet each. 1011 Apartments has recently undergone significant interior upgrades, including vinyl plank flooring, updated countertops, window coverings, paint, bathroom remodels, cabinets, and more. Exterior upgrades include roofing & air condition systems (or mini-split systems) being replaced across all buildings in the last 18 months.
This property is in the South Phoenix submarket, approximately six miles south of Downtown Phoenix and Phoenix Sky Harbor International Airport. 1011 Apartments' proximity to a multitude of major transportation corridors, such as The Arizona Veterans Highway (Interstate-17), Superstition Freeway (US-60), and the Papago Freeway (Interstate-10), provides residents with easy access to the entire Phoenix Valley. In addition, an essential area amenity is the South Mountain Park and Preserve, which features more than 16,000 acres of outdoor recreational space and over 50 miles of hiking, horseback riding, and mountain biking trails. Also situated nearby the property is one of Phoenix's elite golf courses, the Legacy Golf Resort, South Mountain Community College, and numerous retail options such as Target, Fry's Food & Drug, The UPS Store, Walgreens, PetSmart, Walmart Neighborhood Market, Discount Tire, and the dining opportunities at The Farm at South Mountain. Another driving force for the surrounding area is installing the South Phoenix Light-Rail extension. Upon the project completion (scheduled for mid-2024), the property will be within walking distance to the Central & Southern stop allowing passengers to access all of Phoenix MSA, adding tremendous value to the property.