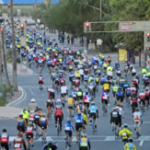 According to a new study from the state Department of Transportation (ADOT), out-of-state bicyclists have an $88 million effect on Arizona every year. ADOT says it's the first study of its kind. The study also found that approximately 39,000 in-state and 14,000 out-of-state participants are involved in as many as 250 bicycling events held throughout the state, each year. Those include El Tour de Tucson, and out-of-state tour companies that come to Arizona regularly to host bike tours. Professional racing companies also come here to train their teams.
The study specifically focused on the contribution to the Arizona economy from out-of-state visitors engaged in organized bicycling activities in the state, and out-of-state customers, wholesale or retail, of bicycle products made or sold in Arizona.
Arizona has long been known as a great place to live, work, visit, and recreate and we Arizonans enjoy a wide range of climates, topography, and natural beauty. ADOT recognizing its role, as a partner with other state, regional and local departments, commissioned the study. In addition to building highways that facilitate the transport of goods and services as well as the movement of people, ADOT sees itself playing a critical role in tourism and recreation and economic development.
The ADOT Bicycle and Pedestrian Program has taken steps to support tourism and economic development. As noted in the study, the activity of bicycling provides environmental, transportation, and health benefits as well as economic benefits to our state.
For the full 119-page study, click here: https://bit.ly/16dW6TA