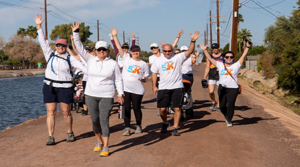 PHOENIX, ARIZONA – AZCREW, the commercial real estate organization that exists to transform the industry by advancing women globally, is accepting registration for its 2nd Annual 5K charity event.
Runners and walkers are invited to come together at Chaparral Park (5401 N. Hayden Road, Scottsdale) on Sunday, March 27, to raise funds for and promote awareness of CREW Network Foundation. There is also a virtual component.
"We're very excited to host our second annual 5K benefitting CREW Network Foundation. The work of the foundation is essential for our industry and is an integral part of achieving our organization's mission. With a diverse, talented pipeline of future leaders, we will ensure success of women in commercial real estate (CRE)," said 2022 AZCREW President Heather Fox Skinner.
Established in 1998, CREW Network Foundation is the only organization dedicating its resources solely towards transforming the commercial real estate industry by advancing women globally. Committed to bringing more women into commercial real estate, the foundation offers career outreach programs, scholarships, and industry research. Career outreach programs have introduced thousands of young women and girls (from high school to graduate school) to the many career opportunities in commercial real estate.
Thirty scholarships are offered annually to those same women and girls throughout the U.S. and Canada. Applications are open now for 2022 scholarships and close April 15. To date, the foundation has awarded more than $1 million scholarships.
As the world's leading researcher on gender and diversity in commercial real estate, the foundation produces research papers annually and a benchmark study every five years, delivering data and action items to advance women in commercial real estate and positively impact the industry.
"It's inspiring to be part of an organization where you are surrounded by women all working toward one goal, to see other women succeed," said AZCREW member Jessica Levin.
All proceeds from the event go directly to CREW Network Foundation. Registration is $25 for members; $35 for non-members; and $15 for students. For all in-person events, AZCREW requires a COVID waiver.
T-shirts will be distributed the morning of the walk for those attending in person. The in-person event begins at 8:30 a.m. The virtual 5K is March 20-27.
Register here.