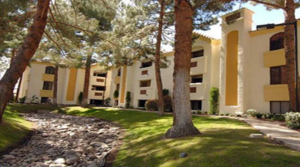 Phoenix, Arizona — ABI Multifamily, the Western US's leading multifamily brokerage and advisory services firm, is pleased to announce the $8.5 million ($98,837 per unit) sale of the Sage Luxury Condominiums located in Mesa, Arizona.
Sage Luxury is a three story, garden-style condominium community which rests on approximately 3.95 acres.  The property was built of frame construction with pitched roofs and individually metered for electricity.  The property boasts an attractive unit mix of (22) 1-bedroom, and (64) 2-bedroom unit types with a weighted average size of 951-square-feet.
"Sage is a perfectly located asset set to benefit tremendously from the massive redevelopment set to occur at Fiesta Mall," states Eddie Chang, Partner, who along with Doug Lazovick, Partner, were the lead brokers for this transaction.  "The Buyer was seeking a property in a solid performing submarket with potential for increased rents via ongoing property upgrades.  The Southwest Mesa Submarket, as well as the bordering North/South Tempe and Chandler Submarkets, have witnessed an explosion of jobs and reinvestment activity which has attracted a significant amount of investor interest."
"The Seller," states Doug Lazovick, "purchased the property in 2010 at the absolute bottom of the market and implemented a renovation and repositioning plan which created a substantial value proposition for the Buyer.  Southwest Mesa, and the area immediately surrounding it, is uniquely positioned in the Valley in that it offers tenants tremendous travel options from ease of freeway/road access to Light Rail."
The Buyer is a private investment company based in Arizona.
The Seller is a private investment company based in Canada.
The multifamily brokerage team of Eddie Chang, Doug Lazovick, John Kobierowski, Alon Shnitzer and Rue Bax represented both the Buyer and Seller in this transaction.