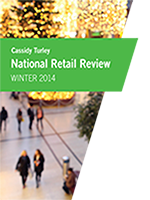 Excerpts  from Cassidy Turley's National 2014 Retail Review

Cassidy Turley is reporting that heading into this year's holiday shopping season analysts were exceedingly cautious with their holiday sales forecast. Last year most of us predicted sales growth in the 3.5% to 4.5% range. The average increase in retail sales over the holidays has averaged 3.2% over the past decade. Those numbers include a brutal 2008 when, at the front end of the recession, sales recorded a rare decline of -2.8%, and they fell by another 1.2% during the dismal 2009 shopping season. Since that time, they have consistently been posting increases of 3.0% or more.
2013 was supposed to be the breakout year. Having weathered the policy-induced distractions of the fiscal cliff, sequester and government shutdown, the economy appeared to be picking up. From January through August of last year, the U.S. averaged 197,000 new jobs per month. By September, the month when most analysts release their predictions, the unemployment rate had fallen to 7.2% (its lowest level since December 2008 when jobs were hemorrhaging at a pace of 700,000 per month). Meanwhile, the Conference Board's Consumer Confidence Index hit 82 in August of last year. This was the highest reading for this metric since January 2008—a full nine months before the near financial collapse that set off the Great Recession.
And so analysts were optimistic last year. GDP was up. Job growth was at its highest levels in eight years. Home prices were rebounding solidly. Confidence and consumer spending were posting solid and consistent gains. So it only seemed natural that these positive indicators for the overall economy would translate
into the strongest sales gains seen so far in the post-recession era. But what happened? Sales growth for the 2013 holiday shopping season came in at a humdrum 3.3%. Better than the ten-year average of 3.2%, but disappointing for an industry that had expected something more. Ultimately a short shopping season (blame the calendar for that one), terrible weather in most of the country and a still-cash-strapped consumer were blamed.
Burned last year, many analysts waited until October before releasing their 2014 forecasts; we didn't. In September we predicted sales growth of 3.5%, an improvement over 2013 totals but a relatively modest one. Our rationale was that while there is a case for bullishness, this would be tempered by a shorter sales season and a few other factors. From Thanksgiving through Christmas Eve, there are 28 shopping days this year. Last year's 26 days was the shortest possible period. The longest possible period is 32 days. According to the International Council of Shopping Centers, since 1993 when the holiday sales season has measured 28 days, the market has averaged sales growth of 2.8%.
Supporting the case for optimism is that the economy is far stronger this year than it was last year. GDP for Q3 2014 came in at 3.9%, well above the advance estimate of 3.5%. This follows an extremely strong Q2 in which GDP grew by a robust 4.6%. And the momentum hasn't let up. Heading into the final quarter of 2014, we were tracking growth in the 3% to 4% range.
Current levels of job creation are at the strongest that we have seen in 15 years. The U.S. economy added an average of 229,000 jobs per month from January through October 2014. Employment growth has been positive for 49 consecutive months,
Business and consumer confidence are at their highest levels in eight years as well. The Conference Board's Consumer Confidence Index stood at 89 as of November. Though this is down slightly from October's reading of 94, this metric is expected to
climb significantly in December thanks to the impact of falling gas prices. October's reading was the highest level that the market has recorded since 2007.
So why weren't we more aggressive with our forecast back in September? After all, household, corporate and bank balance sheets are all in fantastic shape by nearly every metric. The reason is that though wage pressures have picked up in many U.S. markets, overall wage growth numbers have remained relatively weak so
far. Though American consumers are generally in a better spot than where they were one year ago, this last issue is critical. After all, the signs were also all positive in 2013. Ultimately, consumers remained fairly conservative when it came to holiday shopping. We anticipated something similar for 2014.
But this was back in September before what appeared to be a short-term trend of falling gasoline prices evolved into a full-blown price war between Saudi and domestic shale oil producers. Based on the impact of this trend, we see our initial estimate of 3.5% as being too conservative. Thanks to the economic boost that falling gas prices will give American consumers, we now anticipate final sales numbers for the 2014 holiday sales season to come in somewhere between 4.0% and 4.5%.
Over the past few weeks a number of other major holiday sales forecasts have been released. Nielsen predicted 1.9% sales growth. Wells Fargo's economist forecast an increase of 3.9%, while Fitch hedged their bets with a prediction of 3.0% to 4.0%. Kiplinger forecasts 4.0%, Deloitte puts it somewhere between 4.0% and 4.5% and the National Retail Federation has predicted sales growth of 4.1%
Click here for the full Winter 2014 Retail Review from Cassidy Turley.