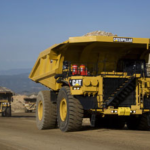 It's the demand, not the supply, stupid! That's what a former Clinton and Obama administration official, Larry Summers, said was behind the economy's four years of weak growth. This quote comes to mind while reading the CBRE Industrial Report from CBRE's Global Research and Consulting Group for 3Q in Tucson.
For this reason there is almost no speculative industrial development. Slowly and steadily, the inventory of functional industrial building in Tucson has been decreasing, and seeing positive absorption over the past seven consecutive quarters. It seems for some users with specific needs, it is too late to lease but still too early to build. Despite the existence of several large blocks of distribution space being available, the demand for the larger warehouse and distribution buildings is still weak.
Positive Absorption Yet Again
CBRE reports the Tucson Industrial market finished Q3 with a vacancy of 11.5% for buildings over 10,000 square-feet, excluding governmentally owned and operated facilities, totaling 34,674.685-square-feet. The vacancy rate is trending down for the eighth consecutive quarter. In 3Q 2012 there was a 12.4% vacancy rate, showing a decrease of nearly one percent year-over-year for industrial vacancy.
Year-to-date, CBRE reports Tucson had a reported 328,383-square-feet of positive net absorption. Third quarter accounted for 53,383-square-feet (16%) of that and looking forward to more positive absorption in fourth quarter 2013. Warehouse and distribution accounted for 14,221-square-feet (26.6% quarterly) of positive absorption; and R&D and Flex ended third quarter with 22,942-square-feet (43% quarterly) of positive absorption. This is the seventh consecutive quarter of positive absorption for the sector, with only two submarkets reported negative absorption, Northeast and Southeast.
The absorption is coming from aviation, mining, call centers and local infrastructure projects primarily, all major factors in the stimulation of the local economy. Although job growth is slow, these business sectors are steering things in the right direction.
CBRE reports two industrial properties under construction in the third quarter. The largest is a build to suit located at Oracle Road and Tangerine Road in Oro Valley. This is the 55,000-square-foot Securaplane plane to be delivered December 2013. Click here for full story reported June 4, 2013.
A 7,447 square-foot class B warehouse building for Blue Bell Ice Cream at 9398 E Old Vail Road was delivered in September. Click here for full story.
Notwithstanding positive absorption and lower vacancy rates, rental rates have also dropped. The third quarter reported average asking rate was $0.47 per square foot per month for metro Tucson area. This is $0.06 lower than second quarter 2013 and $.08 lower than 3Q 2012. Rental rates may start to see an increase however, as the vacancy rates continue a downward trend.
3Q Top Industrial Lease Transactions:
| | | | |
| --- | --- | --- | --- |
| 116.840 SF | Global Solar Energy | 8500 S Rita Road, Tucson | |
| 42,549 SF | TMI Acquisition | 1625 S Euclid Ave, Tucson | |
| 23,552 SF | Cintas Corporation | 4755 S Coach Dr., Tucson | |
| 21,195 SF | Goodwill Industries | 3105 E 36th Street, Tucson | |
| 19,749 SF | Hensley Beverage Co. | 1085 W Grant Rd, Tucson | |
To read CBRE's full 3Q Industrial report and other 3Q Reports from CBRE in Phoenix and Tucson click here.