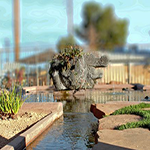 TUCSON KOI & WATER GARDENS ASSEMBLED 2.72 ACRES FOR DEVELOPMENT
Tucson Koi & Water Gardens (Bruce McDonald) of Tucson recently purchased 1.3 acres southeast of Magee and Oracle in Oro Valley for $187,000 ($3.30 PSF). The property was recently rezoned to C-N and assembled with the 1.42 acres adjacent to the south that was purchased in 2013 by the buyer to develop a new Koi & Water Garden, a plant nursery and koi sales location. The seller was Walter and Jane Wong Family Investment LLLP of Tucson.
Juan Teran, CCIM of Chapman Lindsey Commercial Real Estate Services represented the buyer in the all-cash deal.
DUNKIN' DONUTS GOING IN AT HOUGHTON TOWN CENTER
Awale Enterprises 2, Inc (Jad and Jamal Awale, directors) bought lot 4 at Houghton Town Center for $391,248 ($11.60 PSF) to construct a 2,250-square-foot Dunkin' Donuts with a patio. The General Contractor, McManus Construction of Tucson, broke ground October 14 and anticipate the opening to be around the end of January. Houghton Town Center is at the southwest corner of Houghton and Old Vail Road. This will be the third store for the Awales who also own Dunkin' Donuts at 22nd & Craycroft and at Broadway & Harrison.
Shannon Murphy with DVI Realty of Tucson represented the seller, Diamond Ventures and Jon O'Shea of Vast Commercial Real Estate in Tucson represented the buyer in this all-cash transaction.
BUILD-TO-SUIT OPPORTUNITY NEXT TO JOHN DEER DEALERSHIP IN MARANA
K.O.P.E. Real Estate II LLC of Tucson (Peter Evans & Kathleen Orr, members) purchased 2.47 acres of land at 9659 N Tiffany Loop in Marana from Huron Farm LLLP for $296,306 ($2.75 PSF). Huron Farm Management, LLP of Avondale, AZ (Rob Rosztoczy, vice-president) purchased the original 6.3 acres $576.100 ($2.10 PSF) at Tiffany Loop and Interstate-10, with highway frontage at Continental Ranch in Marana to build an 8,100-square-foot John Deere dealership on the site, dba STOTZ Equipment. For full story click here.
Randy Emerson of GRE Partners, LLC represented both buyer and seller in the all-cash transaction. The buyer intends to offer the shovel ready property with highway frontage for build-to-suit uses. Emerson is also marketing the property.
SOUTHWEST VALUE PARTNERS COMPLETE REO FOR 7 ACREAS AT LA PALOMA
Southwest Value Partners (SWVP) of San Diego (Mark Schlossberg and Cary Mack, co-managers) bought 7 acres at Westin La Paloma for $350,000 ($1.15 PSF) in an REO sale from Great Western Bank of Lincoln, NE. SWVP owns The Westin La Paloma Resort & Spa that it purchased out of bankruptcy in January 2012. The 7 acre piece of land is northwest of Sunrise and Via Palomita adjoining La Paloma. There were no known brokers involved in the all-cash sale.
SWVP completed its $35 million resort-wide rejuvenation of the property in October, 2013 by adding new carpeting and furniture to the main lobby, lounge and dining areas of this already transformed resort. During the 1.5 year long transformation, all public spaces and guest rooms received refreshing and modern upgrades to provide the most luxurious atmosphere and experience possible. Each of the 487 guest rooms (including 25 suites) have received floor to ceiling redesign; meeting spaces and ballrooms are reinvented; all five gorgeous resort pools are remodeled and ready for relaxation or play; the 27 hole Jack Nicklaus Signature golf course bunkers and greens are refreshed and resurfaced; the Westin WORKOUT Fitness Center is remodeled and equipped with state-of-the-art equipment; La Paloma Country Club tennis courts have received new surfaces and fencing; and new locally-sourced ground cover, indigenous vegetation, and lighting systems have been installed throughout the property.