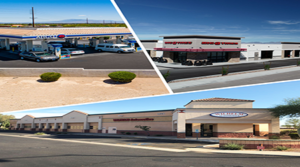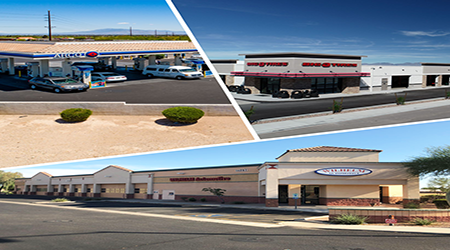 PHOENIX, Arizona – Chris Hollenbeck and Shane Carter of Cushman & Wakefield completed the sale of three single-tenant NNN properties in Arizona for a total of $8.878 million this past week. The three properties, Wilhelm Automotive, Big O Tires and ARCO, total 14,819-square-feet and were 100% occupied at the time of sale.
"We were able to get three of our client's top dollar for their assets by finding three separate buyers with a competitive bid process," stated Hollenbeck.
Wilhelm Automotive, who just signed a brand new 20 year lease, was purchased by RTS Orchards, LLC of Bakersfield, Calif. for $2.875 million. The 5,240-square-feetproperty, located at 13973 W. Indian School Road in Litchfield Park, Ariz., was sold by LASC Investments, LLC.
The brand new 7,120-square-feet Big O Tires property, located at 1350 E. Riggs Road in Chandler, Ariz. was purchased by A&J Real Estate, LLP of San Rafael, Calif. for $3.213 million. Scottsdale-based SimonCRE SDL, LLC was the seller.
The recently renovated ARCO, located at 2891 W. Valencia Road in Tucson, Ariz., was purchased by Denver-based Handler Orlando CO II, LLC. The 2,459-square-foot gas station was sold by Scottsdale-based Tucsaron, LLC for $2.79 million.