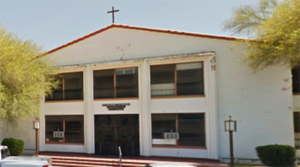 TUCSON, Arizona -- The Saint Augustine Diocese School at 415 S 6th Avenue in Tucson sold to an investment group comprised of Marcel Dabdoub and Ron Schwabe for $1.5 million ($95 PSF).
The two-story building, known as the Diocese School Building, is a contributory historic building that closed as a school 10-years ago and has been vacant for about 5 years.
The buyers, major developers in Downtown Tucson, purchased the vacant property to rehab into 30 residential units with retail on the ground floor. The 15,736-square-foot building, built in 1948, will be renovated into two-thirds residential use, 18 loft units upstairs and one-third retail.  The 1.37 infill acres is platted for four 4-plexes which will add an additional 16-units and a two-level parking structure on the large lot.
"Retail on ground level was tenant inspired by a Phoenix restaurant / bar owner," Schwabe said.  "Retail space downtown is in very high demand these days."
The seller, Saint Augustine Cathedral Roman Catholic Parish, was represented by Pat Welchert with Cushman & Wakefield | Picor at time of sale, and now with Alpha Commercial Real Estate Service in Tucson.
Welchert can be reached at 520.360.9394, for more information.
To learn more, see RED Comp #4685.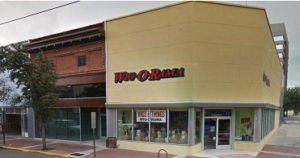 Another Dabdoub and Schwabe investment group bought the former Wig-O-Rama building at 98-112 E Congress Street Downtown Tucson for $950,000 ($89 PSF).
The 10,630-square-foot two-story building was built in 1915 on a 9,900-square-foot lot at Congress and Scott Avenue. The building was vacant at time of sale. There are five tenant spaces currently that buyers plans to split one space for six tenants.
Although Schwabe wasn't ready to announce any tenant names, he said there's plenty of demand downtown, and several restaurants have shown an interest in this space. "We could lease these spaces quickly, but we're trying to create a synergy between the tenants there," Schwabe said. "We're currently talking to The Loft Cinema to do a one screen trial here."
Kristy Kelley with Long Realty represented the sellers, Suk Hoo and Myung Soo Kim. Schwabe with Peach Properties in Tucson represented the investors in both transactions.
For additional information, Kelley should be contacted at 520.299.2201 and Schwabe is at 520.798.3331.
To learn more, see RED Comp #4665.