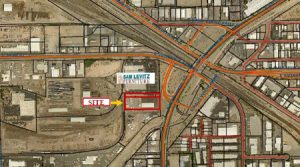 TUCSON, ARIZONA (November 10, 2023) -- W. Silver Recycling, an affiliate of Argentum Recycling LLC, purchased 3.94 acres of vacant land at the southwest corner of 36th Street and the Palo Verde Road overpass from Sam Levitz Furniture Company, Inc. for $1,000,000 ($5.83 PSF).
W. Silver Recycling has been operating for over 100 years, servicing manufacturers' unique by-product needs in the southwest United States and Mexico. To this day, W. Silver Recycling continues to expand into new markets and new commodities to exceed our customer's evolving needs.  A company-wide focus on customer service has permitted W. Silver Recycling to meet the constantly changing needs of our clients and generated by-products. W. Silver Recycling retains pride in the flexibility maintained to meet the specialized cases of each serviced client.
W. Silver Recycling is an international company headquartered in the heart of El Paso's industrial district and resides minutes from the US-Mexico Border. All sites have rail and are located within a mile of an Interstate. One major Key to the W. Silver Recycling philosophy is that each location must be able to provide maximum returns by shipping quality products directly to end customers and eliminating intermediaries.
The transaction closed on November 1, 2023.
Gary and Randy Emerson of GRE Partners, LLC represented the purchaser, and Greg Furrier and Paul Hooker of Cushman Wakefield/Picor represented the seller.