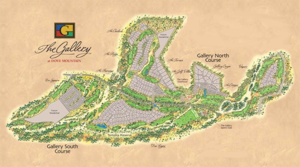 TUCSON, Arizona – The Texas-based company Escalante Golf recently acquired its second Arizona property, The Gallery Golf Club for $7.1 million. The 36-hole Gallery has hosted a number of high profile events including the Tucson Open, the Accenture World Match Play Championship, and numerous amateur and college events. Located in Marana Arizona, the club has two championship golf courses, restaurant and one of the best sports clubs in Arizona.
Located in Dove Mountain, Escalante acquired The Golf Club at Dove Mountain, formerly The Ritz Carlton Golf Club with 27-holes, in 2012 from Tucson-based Cottonwood Properties.
Built on more than 25 years of operational experience, the Escalante Golf portfolio includes luxury golf properties from Florida to California. Other courses owned and managed by Esclante include: Sonoma Golf Club in California; The Raven Golf Club at Three Peaks and Pine Creek Golf Club in Colorado; The Club at Grand Haven, Tarpon Cove Yacht and Racquet Club, Black Diamond Ranch in Florida; Country Club of the North in Ohio; Pumpkin Ridge Golf Club in Oregon; Blackhorse Golf Club, Golf Club of Houston, Black Hawk Country Club, and Shadow Hawk Golf Club in Texas.
Esclante manages its own golf clubs. The seller, Tortolita Golf Club LLC, continues to own the Gallery's custom home sites surrounding the Golf Club. Currently there are 25 custom lots for sale on the north course ready to build and an additional 20-25 lots to be developed.  On the south course, A.F. Sterling with 91 lots and Toll Brothers with 72 lots for a total of 163 homesites under development.  There are an additional uncommitted 106 platted lots on the south course.
Tucson housing predictors are looking quite good. In fact, Realtor.com forecasts Tucson to be one of the top 10 leading real estate markets in the country for 2017. This combined with the fact that there won't be more golf course home lots developed, once these are gone, that's it. There may be many things to love about a golf course property: all that nicely trimmed grass, the hilarious sight of hackers butchering the game, the short walk to the clubhouse and first tee.
But, there are also more financial reasons, golf course properties have been much more immune to downturns. Lot values on golf courses have a 40 percent premium over other lots in the neighborhood, according to the Longitudes Group. Even when a market is really getting hammered, a golf home out-performs a non-golf home almost every time.
It isn't that the golf course home is completely immune to market trends. It's just that it holds its value more than other homes.
Vince Smedes is the Broker / Manager for Gallery Properties and handles homes and homesites around the Gallery Golf Club. Smedes can be reached for more information on these custom home sites at 520.360.4000.
To learn more, see RED Comp #4348.