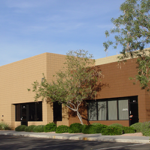 Phoenix, AZ -- Daum Commercial Real Estate Services has negotiated the $7.85 million ($109 PSF) sale of the six-building, 71,900-square-foot Evans Corporate Park located on five acres at 8350 E. Evans in Scottsdale, Ariz.
David Wilson with Daum Phoenix represented the buyer, Greenwood & McKenzie of Tustin, Calif., who specialize in the acquisition, financing, management and sale or exchange of real estate investment properties.
James Lieberthal and Rodney Crotty of Cutler Commercial Phoenix represented the seller, Warmington Properties of Irvine, Calif, a full-service real estate company specializing in acquisitions and asset management.
Evans Corporate Park, a multi-tenant industrial complex located in the Scottsdale Airpark, is 100 percent leased.
Daum Commercial Real Estate Services specializes in industrial and office properties throughout metro Phoenix. Daum Phoenix has successfully sold and leased millions of square feet in industrial and office buildings, and land. Headquartered in Los Angeles, Daum is California's oldest and most experienced commercial real estate brokerage company. Daum Commercial Real Estate Services is a member of ONCOR International, a premier global commercial real estate network. ONCOR International LLC, a subsidiary of Realogy Corporation oversees the ONCOR International member network. More information is available at www.oncorintl.com.