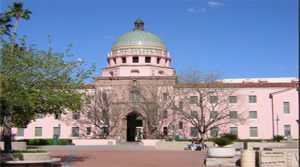 PIMA COUNTY – Gov. Doug Ducey's Fiscal Year 2020 budget proposal, which was released on Jan. 18, includes the elimination of a long-standing state cost-shift to the County and added funding for an important local technical education program.
The Governor's budget plan proposes the resumption of full state funding for the Arizona Department of Juvenile Corrections. Previous state budget plans has required counties to remit funding to the state for the Arizona Department of Juvenile Corrections, where the state houses some juvenile offenders. This came at an additional cost to Pima County taxpayers of $1.8 million annually.
"We appreciate Gov. Ducey eliminating this past inequity from the State budget," said Pima County Board of Supervisors Chairman Richard Elías. "For Pima County this was a particularly problematic issue because our County maintains a model juvenile justice system and sent very few minor offenders into state custody."
The Governor's budget proposal for FY 2020 also includes increased funding for Pima Community College.
As proposed, the state spending plan would add $20 million to Pima Community College's Aviation Technology Center. The additional funding will allow PCC to increase the education and training opportunities in the community for those seeking to enter the growing aircraft industry and aviation maintenance industries.
"Increasing state funding for this program at Pima Community College will result in expanded opportunities for residents to attend college and acquire the necessary training and skills to work in an important industry," Elías said. "State support for higher education and technical training is a key factor to improving the regional economy and the lives of our residents."
County Administrator Chuck Huckelberry said the proposed state support comes at a time when more companies have expressed an interest in relocating or expanding in Pima County and will need a qualified workforce.
"This is welcome news from the Governor's office and fits well with our Economic Development objectives, which include promoting Aerospace, Defense and Technology related business," Huckelberry said.