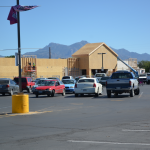 The grand opening of Tractor Supply will be held November 9th at Frontier Crossing, located at the southeast corner of Interstate 40 and Stockton Hill Road in Kingman, Arizona. The 25,898-square-foot store will join 99 Cent Only and Sears Hometown as part of the tenant lineup for this newly redeveloped shopping center.
This will be the seventh Tractor Supply Store in Arizona. Tractor Supply is a publicly traded company with over 1245 stores in 48 states across the United States. The stores typically locate in rural communities or in the outlying areas of larger cities. The company focuses their products to serve the needs of their customers' rural lifestyle. They carry everything that is needed to maintain farms, ranches, homes and animals. Each store team includes welders, farmers and horse owners who collectively provide an exceptional depth of knowledge and resources for their customers.
The property is being jointly developed by Accelerated Development Services and Wadsworth Development. "Tractor Supply will be a great compliment to our shopping center. 99 Cent Only and Sears Hometown opened in July. Both stores have exceeded their sales expectations. We expect the same level of success with Tractor Supply," said Dave Cheatham, President for Accelerated Development.
Currently the shopping center has 25,000-square-feet remaining to be leased. Discussions are in progress with potential retailers who will round out the tenant mix and complete the project. The leasing team of Michael Clark and John Jackson from Velocity Retail Group are working with the ownership group on all potential new tenants.
Clark and Jackson can be reached at (602)682-6075.
Real Estate Daily News is sponsored by Stewart Title and Trust – The only title company named one of
"AMERICA'S MOST TRUSTWORTHY COMPANIES" in 2012 by Forbes®.
Contact Stewart Title & Trust of Tucson at (520) 327-7373 for your next closing.