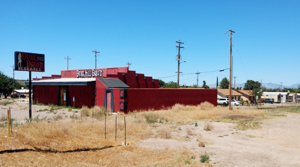 Town denied company a 2017 adult-oriented business license despite past issuances
By Terri Jo Neff

Huachuca City, Arizona – The town of Huachuca City is about to become the owner of a former strip club after the council settled a lawsuit over its denial of a 2017 adult-oriented business license to the Dusk Till Dawn Cabaret.
The council has authorized the purchase of two parcels from ME Management LLC, including a 3,143-square-foot building and an adjacent vacant lot off State Route 90. The $300,000 purchase price is in line with market value of the parcels, sources close to the case say. Huachuca City is located in western Cochise County, about 20 miles south of Benson and 8 miles north of Fort Huachuca and Sierra Vista.
The settlement was reached during court-ordered mediation and "is in the best interest of Huachuca City and its residents," according to a resolution adopted by the town council in April. It resolves all claims made by ME Management, which sued after being denied a 2017 adult-oriented business license for Dusk Till Dawn even though it was granted the same license in 2012 to 2016.
According to court records, state law requires such businesses to be located at least 1,320-feet from homes, schools, daycares, churches, and playgrounds. But several homes are located in the buffer zone around the strip club, which the town clerk cited as grounds for denying the license in 2017.
Public records show the town adopted a commercial code more than a decade ago that didn't prohibit homes in the buffer zone. As a result, various businesses applied for, and the town issued, licenses for strip clubs even though municipalities don't have authority to make such changes. The town's code has since been revised to comply with state law.  
ME Management sued in Cochise County Superior Court hoping a jury or judge would force the town to issue the license based on the company's good faith reliance on prior town actions. But over time the focus turned toward compensatory damages for lost revenue and diminution of value.
The settlement calls for escrow to occur by Oct. 11 although town officials haven't disclosed how the purchase will be funded. The town recently approved a bid for a Phase One Environmental inspection.  
The agreement does not include the Class 6 liquor license which had been utilized at Dusk till Dawn. That license is owned by Tucson-based GDOC LLC which is not a party to the lawsuit.
Some council members have mentioned a hope that the town can quickly sell the property. If so, it will join a 7,000-square-foot former store and a shuttered VFW hall as large commercial properties for sale or lease in the town.