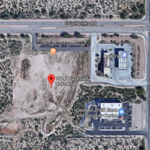 TUCSON, Arizona – Brand Properties, LLC (Scott Brand) of Salt Lake City, UT bought 12.48 acres at Sorrento Square for $2.1 million ($3.86 PSF) for a new Leman Academy of Excellence Charter School.
The tuition-free charter school began as a K-6 school in 2014 and has grown to become a full K-8.
The Leman Academy is named for Kevin Leman, a renowned psychologist and author. He has become a radio and television personality, educator, speaker, and author of over 45 books on parenting, marriage and family living.
The idea is to create a learning environment based on a Classical Education platform. Classical Education is based on the three stages of learning: grammar, logic and rhetoric and is rooted in integrating the various subjects thematically, providing a tie between subjects.
The site is at approximately 10142 E Golf Links Road in Tucson and will be its third school in metro Tucson, with a fourth school in Sierrra Vista. Other locations include Marana and Oro Valley were also  built-to-suits while the school in Sierra Vista was a retrofit to an existing school building.
Click Here and Here for earlier stories.
Patrick Welchert, SIOR, of Alpha Commercial Real Estate Service in Tucson represented Leman Academy and Andy Seleznov and Melissa Lal with Larsen Baker of Tucson represented the seller, Larsen Baker, LLC (George Larsen).
For additional information, Welchert can be reached at 520.360.9394 and Seleznov ad Lal are at 520.296.0200.
To learn more, see RED Comp #5472.