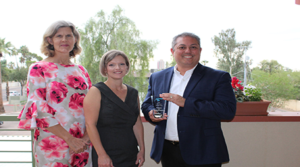 PHOENIX, Ariz. – Local Initiatives Support Corporation (LISC) Phoenix held their annual awards breakfast on Nov. 19, an event to celebrate community development work in Arizona. This year's theme, "Cultivating Community," highlighted impactful investment tools and strategies, such as the Affordable Housing Fund and the Community Development Financial Institutions (CDFI) Fund. Foundation for Senior Living (FSL) was honored for its Marist on Cathedral Square in Tucson.
Foundation for Senior Living, a frequent user of the Affordable Housing Fund, received the exemplary project award for its The Marist on Cathedral project in Tucson. The project for low-income seniors includes a re-purposed Marist College, built in 1915, and a newly constructed seven-story building with apartments and a recreation center.
Arizona Community Foundation received the LISC Phoenix award for exemplary partner for its innovative Affordable Housing Fund, which provides zero interest pre-development loans to nonprofit developers. Since 2008, the $1.5 million fund has recycled three times and has leveraged more than $500 million in development costs statewide.
"This is one project that benefited from the pre-development fund," said Tom Egan, president and CEO of Foundation for Senior Living. "We are so grateful for the opportunity to partner with the Arizona Community Foundation and Affordable Housing Fund. More affordable housing is needed throughout our state and we're proud to be playing a role in those developments."
Approximately 250 guests attended the event and listened to keynote speaker Annie Donovan, the former director of the Community Development Financial Institutions Fund at the U.S Treasury Department and now chief operation officer for LISC.  Annie is a national expert on community development tools and investment strategies.
Foundation for Senior Living is a 501(c)(3) organization whose mission is to provide home and community-based services and to develop energy-efficient, affordable housing to promote health, independence and dignity for all. With a long history of helping Arizona families with issues including health, hunger, aging, illness, loneliness and substandard housing, Foundation for Senior Living is committed to improving the quality of life for all Arizonans. To learn more about Foundation for Senior Living programs and services, visit fsl.org.