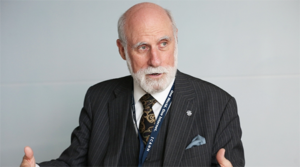 TUCSON, AZ — Next Tucson and IEEE Tucson Section, in partnership with the University of Arizona and Arizona Commerce Authority, are pleased to announce Internet pioneer, Dr. Vint Cerf, as the keynote speaker at the inaugural WhatNXT Summit on February 10 at the UArizona campus.
The summit is an opportunity for those in Southern Arizona to explore both the advantages as well as the challenges faced by a society that's adapting to rapidly-advancing technology.
"We're excited to have the 'Father of the Internet,' Dr. Cerf, as the keynote speaker for the inaugural WhatNXT Summit," said Justin Williams, Founder & CEO of Next Tucson. "This summit serves as a catalyst to further inspire our community innovators to develop bold solutions on a global scale."
Cerf is the co-designer of the TCP/IP protocols and the architecture of the Internet. In his current role with Google, he serves as Vice President for Research and Chief Internet Evangelist. Cerf also founded the non-profit "The People-Centered Internet (PCI)," an organization that works to ensure that the Internet is a positive force for good, improving the lives and well-being of people around the world.
"We're honored to have Dr. Cerf share his wisdom and expertise on these important issues that affect all of us — those involved in the development of technology and society as a whole," said Angie Casarez, Vice Chair of the Institute of Electrical and Electronics Engineers (IEEE), Tucson Section. "This is an amazing opportunity that promises to inspire those in our Southern Arizona tech community."

"Thanks to the innovations being advanced in Arizona by cutting-edge companies and world-class universities, our state has become a leading hub for emerging technology," said Sandra Watson, President & CEO of the Arizona Commerce Authority. "We thank President Robbins and his team at the University of Arizona, Next Tucson and IEEE for providing this excellent opportunity to hear from an esteemed tech pioneer and discuss how to leverage our leadership position to solve global challenges."
Cerf will guide the WhatNXT Summit sessions that further explore the opportunities and challenges faced by society as technology rapidly advances.
2:00 PM Advancing Technology Session topics include:
Quantum Computing
Cyber-security
Artificial Intelligence
Ethics of Coding/Technology
6:00 PM Advancing Society Session topics include:
The Human Impact of Automation
Developing a "People-Centered Internet"
Age of Accelerations / 4th Industrial Revolution
Inclusion of Tribal Connectivity
Challenges and Opportunities of Innovation
Attendees will have the opportunity to engage in a question-and-answer period with Cerf following his remarks.
Next Tucson works to strengthen our community by catalyzing a city-wide culture of civic action through innovation and entrepreneurship. We help Tucsonans combine their passion with the skills and resources necessary to become successful "civic entrepreneurs". Our programs provide current and aspiring leaders with education, mentorship, and resources to turn passion into impact. We seek to maximize our own impact by partnering with governments, NGOs, industry, educators and other community leaders. Together, we form a dynamic community of changemakers creating innovative solutions to our most meaningful civic challenges. For more information or to help with our work, please contact Justin Williams at justin@nexttucson.org
It's not too late to attend.  WhatNXT Summit Passports start at $29 for both sessions. To learn more about the WhatNXT Summit, Dr. Cerf, and how to register, visit whatnxt.org.