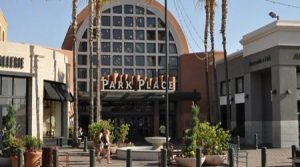 TUCSON, Arizona (October 6, 2023)—Pacific Retail Capital Partners (PRCP) of Los Angeles announced it has assumed management and leasing responsibilities at Park Place Mall in Tucson, a 1.1-million-square-foot fashion and entertainment destination.
This marks PRCP's first property under management in Arizona. LNR Partners, a special servicer of CMBS securities, appointed Pacific Retail Capital Partners to manage and lease the property.
The Brookfield Corporation acquired General Growth Partners (GGP) in 2018 and, with it, 456,114 square feet of Park Place Mall at that time.  The property reverted to the beneficiaries, commercial mortgage-back securities originally for $200 million, for an appraised value of $87 million, on September 6th. Goldman Sachs and Deutsche Bank National Trust Company GS Mortgage Securities Corporation II, Commercial Mortgage Pass-Through Certificates, CMBS Series 2011-GC5 of Santa Ana, CA, now own the property, according to Pima County public records.
Park Place was reported as 95% occupied at the end of August, and the transfer did not include three of the retail anchors.
Located at 5870 East Broadway Blvd., on the east side of Tucson Park Place serves as the dominant retail center in the market. The property boasts six anchors: Century Theaters, Dillard's, Round 1, Total Wine & More, Ulta Beauty, and Old Navy. It features more than 12 dining options in the food court, a Southwest-themed children's play area, and a 12-foot video display wall.
"We are proud to enter a fundamentally strong retail market in Tucson by adding Park Place to our portfolio," said Pacific Retail Capital Partners Founder and CEO, Steve Plenge. "Park Place is a best-in-class shopping center and aligns with our strategy of entering high-growth markets. We are excited to apply our best-in-class management and leasing approach to energize this shopping center to operate more efficiently and better serve the needs of the Tucson community."
Plenge continued, "We bring a thoughtful and purposeful approach to the management of our properties and rely on our decades-long relationships with leading national and regional retailers to bring customers a unique mix of shopping, dining, and entertainment options. As a company, we aim to evolve real estate for the next generation, and we're excited to bring that ethos into a new market."
"Retail fundamentals remain strong despite sustained headwinds. A slowdown in retail expansions and some retail closures has turned absorption negative during this year. However, retail availability remains extremely tight—especially in the highly-sought-after location--- standing at a record-low 4.8% for the US and 6.9% in metro Tucson," according to Nancy McClure a local retail specialist with CBRE. "The lack of new construction has helped balance supply and demand, with forecasts suggesting that current high occupancy levels will continue."
Brookfield also owns Tucson Mall from the acquisition of GGP.