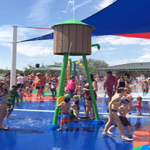 MARANA, Arizona – Meritage Homes recently closed on the last two blocks at Gladden Farms in Phase I for $1.82 million ($24,000 per lot). Blocks 7 and 13 sold platted for 76 homesites by Crown West Realty (Dean Wingert member) the developer.
Gladden Farms is a 1,350-acre master planned community in northern Marana, just west of Interstate 10 between Tangerine and Moor Roads. There are currently 1,300 SFR homes built in Gladden Farms and 277 lots currently under development. With four homebuilders active in the community, makes it is one of the most active communities in the Northwest submarket.
Will White and John Carroll with Land Advisors Tucson office handled the transaction.
White said, "Gladden Farms is firing on all cylinders and is one of the top masterplans in the Tucson metro area. It is great to see the builders continuing to purchase more land and build on their success."
Meritage bought its first block of 89 platted lots at Gladden Farms in December 2015. Other builders in this planned community include KB Home, Richmond American and Lennar Homes.
White speaking of the recent sale says, "That was the last block of lots in Gladden Farms I and we are currently working on new deals now in Gladden Farms II. The mix of great homebuilders and product has produced strong sales and pricing power and we expect this to continue for some time."
Gladden Farms offers over 105 acres of parks and open space and 8-miles of landscaped trails which connect to the major regional Santa Cruz River Linear Park system. Future phases will further expand the park areas and trail systems along with additional recreational, picnic, and sports facilities throughout the community.
For more information, White and Carroll should be reached at 520.514.7454.