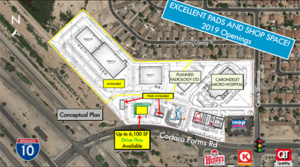 Tucson, Arizona – Radiology, Ltd. purchased 1.45 acres at Cortaro Ranch for construction of a new radiology imaging center for $634,100 ($10 PSF). Located at the northeast corner of I-10 and Cortaro Farms, the lot is approved for up to a 10,000-square-foot building that will be adjacent to Carondelet Micro Hospital.
Radiology, Ltd claims to be Tucson's hometown radiology practice. This will be its 10th diagnostic center in metro Tucson area. Founded in 1933, Radiology, Ltd is owned and operated by its physicians, comprised of more the 35 subspecialized, fellowship-trained experts in body imaging, women's imaging, interventional radiology, molecular imaging, musculoskeletal imaging and neuroradiology.
The company employs over 400 staff members in nine ACR-accredited, freestanding diagnostic centers, including two full-service women's imaging centers.  It offers 24/7/365 coverage for two hospitals in southern Arizona.
Brenna Lacey of Volk Company represented the seller, Cortaro Commercial JV, LLC, a joint venture with Caddis Arizona and TTRG of Terra Haute, Indiana. Buzz Isaacson of Buzz Isaacson Realty represented the buyer.
For additional information, Isaacson should be reached at 520.400.5500 and Lacey should be called at 520.326.3200.